There is such WONDER in the shop these days.   I'm SO EXCITED!I am not wanting summer to be done, but I loved today's temperatures.  It feels like knitting weather. We are working on LOTS of events and SOME BIG SURPRISES for FALL.  

Clean Sweep for Clearance - SHOP THURSDAY    

Clearance LOFT SPECIALS

Shop 10 a.m.-3 p.m. EXTRA 25% OFF ALL CLEARANCE


Shop 3 - 8 pm   EXTRA 40% OFF CLEARANCE
Friday, September 23 - Plan to STOP BY THE SHOP between 6 pm & 9 pm. WE WILL REVEAL the BIG SURPRISE - JOIN US FOR the BIG REVEAL. Gift Bags for the first 60 customers who share in our event
& LOTS MORE. Watch for details during the next 3 weeks.
Yarn Tasting - NEW YARNS, Focus Projects 24% OFF - Friday, October 7  10 a.m.- 7:30 pm
October 15 & 16  Workshops by Sharon of Three Irish Girls 
November 5 - Susan Gibbs, Shepherd of Juniper Moon - 1:00 pm
Grandview Retreat - Only a few spots LEFT.Trunk Show & Book Signing. For more details, click here.
Freebies & Resources
THEME:  Ponchos, shrugs, capelets and more
Elegant Capelet pattern available for $5 on-line.
What's New
Dream In Color Cashmere Smooshy in all the NEW COLORS  
Misti Handpaints Chunky Alpaca in New colors - Great in the Square Peg Poncho. Deep, dark, & rich tonals. Angel knit a great sample: Check it out at the shop.
Regia Journal Highland Tweed -Great yarn for socks, leggings, scarves,hats and more. 
SMC Select Dolce Vita - A Scarf in less than 45 minutes  
Poncho's, capelets, shrugs and more are THE PROJECTs for FALL.  Think elegant or funky, fringed or straight.  Just add boots and a great pair of jeans and you are ready for FALL and all that the season brings.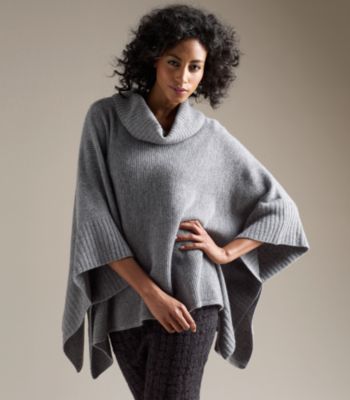 Eileen Fisher Poncho
Did you see the wonderful ad in last week's StarTribune by Eileen Fisher. I am working on that design now..NOT ready yet..give me at least a
month.
BINGO CARDS DUE by 9/6/2011 at the Shop  
Baby hats for contest DUE 9/1 at the shop.