Much has been noted of late regarding the transformation of stores into the upcoming Holiday season when we haven't even enjoyed a wonderful Thanksgiving dinner with family and/or friends.  While I subscribe to this philosophy it is hard as a knitter to wait until November 26 to start my holiday gift knitting.  We all know that there is NOTHING that is mass produced that can even compare to a hand made gift.  Because hand made gifts shout LOVE. 
I ALSO LOVE holiday music, lights, family, and MOST OF ALL the attitude that comes with a "Happy Thanksgiving" or "Happy Holidays" shared with customers and friendly faces.  I for one, am very happy that the holidays are HERE.  As soon as the turkey gets eaten I may start putting up the tree so I can knit in my living room and enjoy the sparkle of the season.  If holiday gift knitting makes you crazy, pick one or two small projects and you will have lots of time for sharing your craft with those you love.  Need extra time to knit or a bit of help in completing those holiday gifts?  Join Yvonne for Holiday Gift Knitting from 6-8pm December 1 & 15. 
HOLIDAY SCHEDULE & HOURS
Wednesday, November 23:  Closed at 6:00 pm
Thursday, November 24-Thanksgiving -CLOSED
Saturday, December 24:  Christmas Eve:  Close at 3:00 p.m.
Sunday, December 25 - Christmas - CLOSED
Saturday, December 31- New Year's Eve - Close at 4:30 p.m.
Sunday, January 1, 2012 - CLOSED
Freebies & Resources
A few ideas for quick to knit holiday gifts....headbands are great for Minnesota. Click on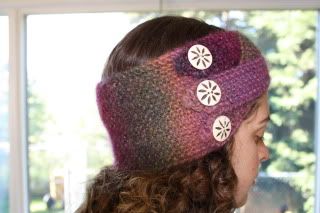 photo for pattern.
What's New
Another shipment of Trendsetter Bodega has arrived and we have several samples that we have added sequins to the ruffled
edge.
MARBLE Chunky has been restocked in all your favorite colors.A large box of Claudia Handpaints Sock Yarn is here.
Gift Giving Ideas:  How about a simple project bag (only $9.50) for toting your works in progress?  Della Q Edict bags are fun.  Each has a saying: Scarf, Tangled String, Hat, etc. 
or choose one of the cute bags with sheep embroidered at the base.  Chica-A one skein Yarn Keepers are back in stock - a great stocking stuffer. Our Sidney the Sheep's are
here. Puppy Snips and Dumplings are restocked (great for stocking stuffers as well).
Interweave Knits Magazine arrived.