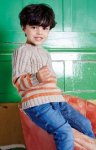 Rowan Little Dudes Book
by Rowan
UPC:
4053859229968
Manufacturer #:
ZM230
Rowan Little Dudes includes 11 designs for children aged three to eight years old, from vests to jumpers ? all with fun, unique details that will set them apart. The yarns required for these patterns included Original Denim, Softyak DK and Handknit Cotto
$18.00
Sublime 710 The Twentieth Little Sublime Hand Knit Book
by Sublime
UPC:
5015161907100
Manufacturer #:
Sublime710
Sublime Book 710: The twentieth little Sublime Book: In the latest collection of Sublime baby cashmere merino silk dk the Sublime design studio has selected a palette of beautifully bright, fresh shades and combined them with some of the classics such a
$16.50
Schachenmayr Creative Lace Fashion Yarn
by Regia
UPCs:
4053859216012, 4053859216029, ...
Manufacturer #s:
M4200081, M4200082, ...
Schachenmayr Creative Lace Fashion Yarn will fascinate you with its wonderful radiant colors skillfully combined in a single ball. From brightly multicolored through shades of blue or red to a more earthy palette - all colorways have an unusually high
$15.50
Building Blocks Pattern Book
UPC:
400100713228
Manufacturer #:
21100463
Building Blocks Pattern Book: Build your knitting skills one square at a time! "Building Blocks" is a series of 12 fun patterns that will build your knitting skills. Starting with simple knit and purl stitches your confidence will grow as you progress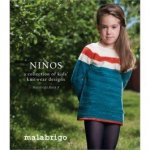 Malabrigo Book 9 Ninos
by Malabrigo
UPC:
400100999999
Manufacturer #:
I-LA-99HG-2
Malabrigo Book 9 - Ninos a collection of kids' knitwear designs. Features adorable patterns using Malabrigo Arroyo, Mecha, Rios, Chunky, Rasta, and Sock. Over 18 stylish patterns for any boy or girl!
The 2nd Sublime Natural Aran Hand Knit Book
by Sirdar
UPC:
400100813348
Manufacturer #:
K001-692
The Second Sublime Natural Aran Handknit Book (687) 14 designs for women knit in Sublime Natural Aran. In this collection we have taken inspiration from an era that is synonymous with striking garment shapes it has to be the swinging 60's of course! We
$18.00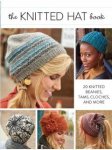 The Knitted Hat Book
by FW Media
UPC:
9781632502216
Manufacturer #:
16KN06
The Knitted Hat Book: Enjoy 20 knitting patterns that create beanies, tams, cloches, and many more hats for all seasons! Featuring projects from today's top designers, these hats are sure to turn heads.
$22.99