Trendsetter Fleur Yarn
by Trendsetter Yarns
Manufacturer #s:
FLEUR-1775, FLEUR-1776, ...
rendsetter Yarns Fleur is a bouclé
"yarn"
that transitions through a palette of colors in each ball. Ideal for those with wool sensitivities this cotton and acrylic blend is perfect for warm weather garments and accessories.
$17.50
Baah La Jolla Yarn
by Baah Yarns
Manufacturer #s:
LJ-AMETHYST, LJ-AMORE, ...
LaJolla fingering weight
"yarn"
from Baah Yarns comes in a beautiful selection of vibrant saturated hues. The tight twist and high micron count in this
"yarn"
works up beautifully in any kind of pattern. La Jolla is made of Superwash Merino.
$31.00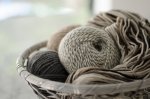 String@ Yarns Aran 30 Bulky Yarn
by String@
UPCs:
512779, 512778, ...
Manufacturer #s:
512779, 512778, ...
String@ Aran 30 Bulky is a blend of 70% Merino Wool & 30% Cashmere that blends 2 color strands together to create a marled tweedy
"yarn"
. A truly luxurious
"yarn"
.
$24.00
String@ Strata Cashmere Yarn & Joy Solid Cashmere Yarn
by String@
UPCs:
20146900, 20147200, ...
Manufacturer #s:
S201469, S201472, ...
String@ Strata is 100% Cashmere in a super sized package. Each skein is 625 yards of cashmere dyed in in shaded neutrals with an accent color. Designs have been developed to utilize the total hank for drop dead gorgeous garments and accessories. Joy is
$52.00 - $275.00
Heidi & Lana Knitting Wrap, Shawl & Poncho Kits
by Heidi & Lana
UPCs:
9955698401, 9955698402, ...
Manufacturer #s:
REFKit, DISKit, ...
Heidi & Lana Kits contain the
"yarn"
, pattern, notions and everything but the needles that you need to make each kit. Great Kits to knit in fabulous
"yarn"
. Grab the Reflection Shawl, Discovery Poncho, Passage Poncho, or the Conversation Shawl
$62.00 - $102.50
Plymouth Baby Beenz
by Plymouth
UPCs:
400100780121, 400100780114, ...
Manufacturer #s:
06330076, 06330077, ...
Plymouth Yarn Baby Beenz is a fabulous worsted weight
"yarn"
for knitting and crochet in 100% acrylic and in softer pastel colors - making this
"yarn"
so perfect for baby items. The acrylic gives it machine wash and tumble dry ease and incredible softness.
$8.00
Ella Rae Phoenix Worsted Yarn
by Ella Rae
UPCs:
843189056600, 843189067583, ...
Manufacturer #s:
PHX-02, PHX-03, ...
Ella Rae Phoenix
"yarn"
is made from 100% Egyptian Cotton. Phoenix is a worsted weight that's sturdy enough for things like knitting market bags, yet soft enough for garments. You will get nice stitch definition with the cable construction ply.
$12.50
Blue Sky Fibers American Scenic Yarn
by 65 South
Manufacturer #s:
BSF-200, BSF-201, ...
American Scenic Yarn by Blue Sky Fibers has resulted from a collaboration between Blue Sky Fibers & Tabbethia Haubold of Long Island Yarn & Farm. The first Mad-in-the-USA collaboration is being offered in 4 beautiful color Options.
$31.50
Shibui Maai Yarn
by Shibui
UPCs:
400100791264, 400100791271, ...
Manufacturer #s:
M2001, M2003, ...
Maai by Shibui is a dreamy blend of alpaca & merino with a chainette construction.
$16.50