Caladenia Shawl KAL clues will be revealed each week over 5 weeks a new clue will be revealed. The project is a top down triangular shawl, symmetrical and easy to wear. Knit with a little under 1200 yd/ 1100 m this will be a medium sized shawl. We'll be knitting short rows, simple lace and mosaic and there will be tutorials and tips to help you out along the way and inspire you to try your hand at something new with this beautiful project. The inspiration for this design is the gorgeous Australian Caladenia also known as the Spider Orchid, of which there are many beautiful variations.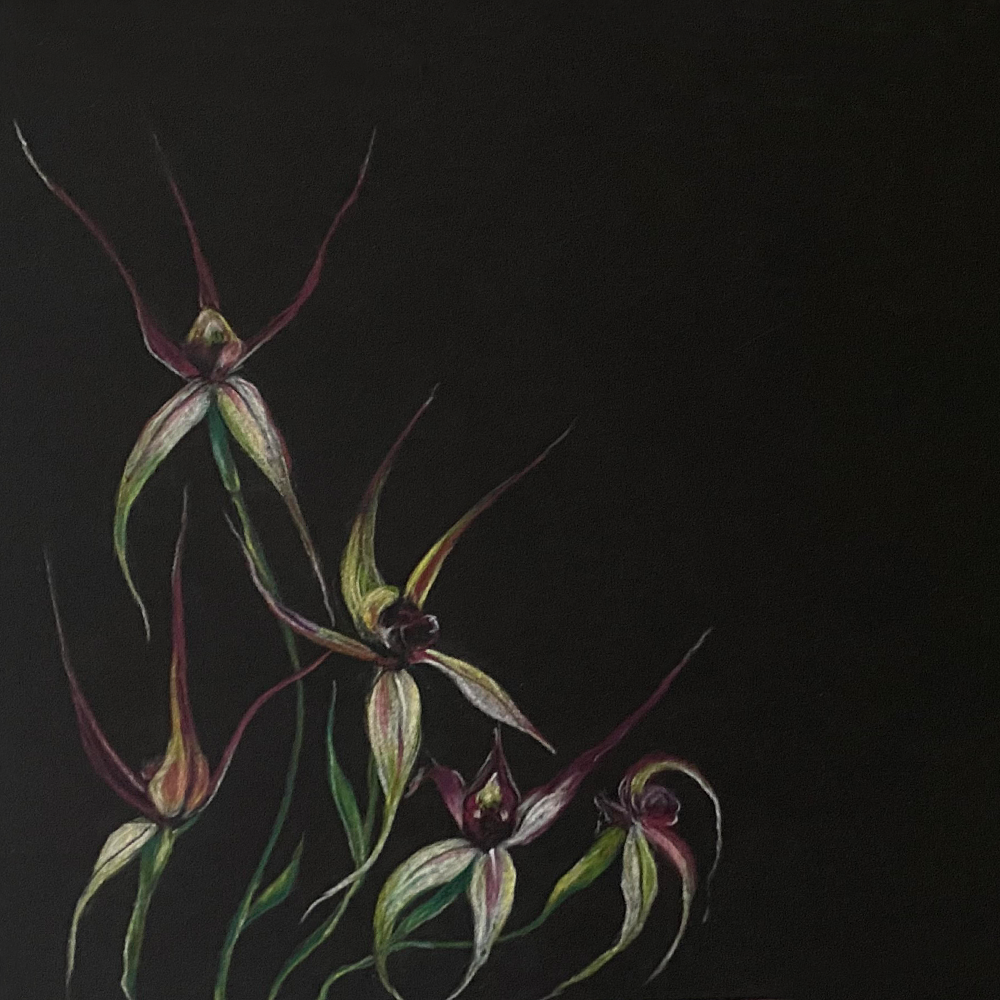 Knit along in excellent company over in Ambah's Ravelry group, there will be fun chat, support and great prizes to win, find the main MKAL thread here. Also join us in Ambah's Facebook group and on social Media with the #ambahobrien #CaladeniaShawlMKAL tags. I'll share non Ravelry FO entry details in April.
Jana from the Purl Together podcast is joining us, she will create helpful tips and tricks videos to share along the way.
Subscribe to the MKAL pattern on Ravelry here and on Payhip here.
Caladenia Shawl MKAL Clue Schedule: April 2, April 9, April 16, April 23, April 30
Each clue will be added to your Ravelry library of via Payhip updates on the above dates, with the full version of the pattern arriving on April 30, 2021. The KAL will run through May 31, 2021 to allow plenty of time to finish your gorgeous projects.
DIMENSIONS: Wingspan: 102″/255 cm Depth: 22.5″/56.5 cm
YARN: Check out Baah Kits HERE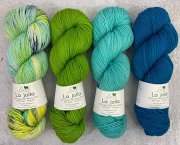 Fingering weight yarn
Choose between 3 or 4 colors: It is important that C1 contrasts strongly against C3 (or C2 if using 3 colors)
4-COLOR
C1: 400 yd/366 m
C2: 200 yd/183 m This can be a softer contrast to C1
C3: 200 yd/183 m This needs to be a strong contrast to C1
C4: 400 yd/366 m
3-COLOR
C1: 400 yd/366 m
C2: 400 yd/366 m This needs to be a strong contrast to C1
C3: 400 yd/366 m
NEEDLES: US 4/3.5 mm and US 6/4 mm needles, or size required to obtain gauge

NOTIONS: 2 stitch markers and optional extra stitch markers for pattern repeats, tapestry needle
GAUGE: 23 sts and 44 rows = 4″/10 cm in garter stitch on smaller needles, blocked.
23 sts and 48 rows = 4″/10 cm in mosaic stitch on larger needles, blocked.

ROAD TRIP MYSTERY KNIT-ALONG DETAILS HERE: Pattern is available here~

Pattern Available HERE on Ravelry


We're taking a wonderful road trip around the state of Maryland, celebrating knitting and local yarn shops and American history and natural wonders and Maryland landmarks as we go! We hope you'll join us on this grand adventure.
While we want to keep the shape just a bit of a mystery, this shawl a combination of a triangle and a scarf, with motifs based on things we've seen as we've traveled throughout the beautiful state of Maryland.
Each leg of the trip contains two options (one designed by Cynthia, the other by Valerie), setting every knitter up for a grand choose-your-own knitting adventure. Each option is a creative tribute to a landmark, or historical event, or region that can be encountered on a Road Trip around the great state of Maryland.
For more information, see: http://roadtripmystery.com. The photos of yarn here are our suggested yarn packs.

Yarn Kits from Baah Yarns are available HERE:
We will be releasing a "packing list" around the beginning of March, which will give details on all the yarns and notions you need. For now, buy the pattern, and we'll update you then!