60 Quick Luxury Knits

has arrived - Another great publication using Cascade Yarns. Love the patterns. Love Venezia Sport. I can't wait to cast-on the hat and the great cable scarf. The hat is knit in worsted and the scarf I can see in 220 Sport Superwash.

What's On OUR NEEDLES?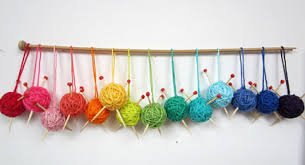 Tolu is working feverishly on a sample for our Yarn Tasting in a new cashmere yarn from Trendsetter, "Duchess" She says the yarn is light and lofty.



Angel has only a few more rows on her Stitch Block knit in the new Frabjous Fibers March Hare - the worsted weight version of the fabulous Wonderland Yarns.




I am finishing a new design for the Yarn Tasting called "Blurred Lines" - so much fun!



Jane Slice-Smith from Australia will be teaching at the shop October 18 &19. She will teach 2 texture knitting classes on Saturday (Cables & Zig Zags, Bobbles & Bells), Mitres and Simple Intarsia Sunday. Jane will also be available for consultations. Grab a PDF flyer off the web or in the shop. The more classes you attend the better. Take 1 @ $65, 2 @ 120, 3 @ $175 & 4 @ $200. Call the shop to register.


September Classes


September classes include the Blanket and Hat with Paul Neary. Paul is a guest instructor this September.


Mystery Knit-Along with Michelle starts Sunday September 14 from 2-4 pm. Stop in to pick up yarn before class

Join Deb to finish Works in Progress on Sunday, September 14.



L'Enveloppestarts September 17 with Deb as does Gothic Lace Cowl on September 15.


We launch our CustomFit Concept this month. Join us on Thursday, September 18 from 6-8 pm or Sunday, September 21 from 12-2 pm. Join us to learn all about Custom Fit.


Fall in Love with Sweaters again. Learn about stress free knitting and ACTUALLY wear the sweaters you knit BECAUSE you know they FIT! You choose the yarn and the gauge. WE measure and help you design the PERFECT sweater. Your body combined with our know-how and the Custom Fit System by Amy Herzog EQUALS Sweaters that FIT.
Mark you calendars for our annual Fall Yarn Tasting
Friday, October 3: 10 am-8pm
Watch the web for fabulous prizes and more!
Freebies
Check out Tiles on Ravelry
Or the Rust Wristband by Sandra Ronca
Check out the Cuddley Chameleon from Browneyedbags - Great knit in Stella Jaq by Plymouth Yarns
11262 86th Avenue North
Maple Grove, MN 55369
763-391-7700