The chill is in the air and it is officially FALL. Fall is the BEST time of year in the shop. We are SO FULL of yarn, notions, needles, bags and more. Angel keeps asking, "Where am I going to put it?" Even I chastised myself and made a note to be more frugal at market next year. But, who am I kidding? Our customers know that we ALWAYS buy sweater quantity in every yarn and almost every color. Who says we have too much YARN? Not I, say the yarn monsters!
Misti Alpaca Misti Tui
Delicate chainette in the softest 100% baby alpaca describes Misti Alpaca Misti Tui yarn. Alpaca is warmer for the weight than wool, and the chainette construction of Misti Tui makes it even lighter. This sport weight yarn has a slightly heathered look and comes in a range of glorious neutrals that will make divine cowls, scarves or anything next-to-skin - and of course sweaters. Tui is sport weight and each skein has 120 yards and it is super price: 6.00 per skein!

Tui and Shibui's NEW MAAI are perfect for SoJourn Mitts Or choose Chevron Gauntlets or Adorable Fingerless Mitts: They only take 2 skeins!
What's On OUR NEEDLES?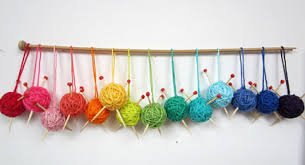 Margaret, one of our fabulous knitters is working away on the new Brooklyn Tweed Design:

ROWE
She is using Berroco Blackstone Tweed, which is an economical knit for the luscious garment!
Tolu is knitting Fingerless Mittens Couplet in Silkpaca from Malabrigo - Multi stranded to create the Ombre Effect

UPCOMING CLASSES & EVENTS
Jane Slice-Smith from Australia will be teaching at the shop October 18 &19. She will teach 2 texture knitting classes on Saturday (Cables & Zig Zags, Bobbles & Bells), Mitres and Simple Intarsia Sunday. Jane will also be available for consultations. Download the PDF here! The more classes you attend the better. Take 1 @ $65, 2 @ 120, 3 @ $175 & 4 @ $200. Call the shop to register.



CHECK OUT Jane's 2014 Designs

@ SigKnits ALL are Stunning!




October Classes
Join Mary Jane for Building Blocks or Color Block Afghan Classes starting 10/4: Each class meets once per month to knit 2 blocks or a panel. There is adequate time to get your afghan completed and you learn cables, bobbles, and more.
Each class is only $75 plus materials which averages only $12.50 a month. Lindsey has also created a hand-out that tells you how to put the blocks together easily! I have great staff.



Join Sandy for a 2 session Learn to Crochet Class starting October 5: 2-4 pm 2 sessions and the fee includes the materials.

Fall Learn to Knit Classes start on Saturday, October 4 and Thursday, October 9: Our new LTK classes are 4 sessions and students will make both a hat & cowl while learning to knit! Both are 1-skein projects.
Join Deb to finish Works in Progress or start something new: Saturday, October 4 from 10-2 pm

Deep End - a fabulous garter stitch shawl begins Saturday, October 11 with Mary Jane.

We had a FABULOUS turnout for our Custom Fit launch last week. We got everyone measured and reviewed yarn options. Each class participant receives a free custom pattern with purchase of the yarn for CLASS. The class starts on Sunday, October 5 and finishes on January 4: 5 Sessions $75 and includes the pattern. The is the perfect opportunity to KNIT A SWEATER THAT FITS!



Fall in Love with Sweaters again. Learn about stress free knitting and ACTUALLY wear the sweaters you knit BECAUSE you know they FIT! You choose the yarn and the gauge. WE measure and help you design the PERFECT sweater. Your body combined with our know-how and the Custom Fit System by Amy Herzog EQUALS Sweaters that FIT.





REGISTER for the NEXT Custom Fit EVENT: Sunday, October 12: 2-4 pm



Individual Custom Fit Sessions are available for $25 per session which includes information, measurements and a pattern.




2 New FREE KALs have been added to start in October.

Join Deb in the Rowan Kaffe Fassett KAL. Rowan is getting set to launch its second mystery knitalong project on Oct. 1, and this time the designer behind the fun is color master Kaffe Fassett. KAL will meet Wednesdays, October 1, 8, 22 & November 5 & 19 from 6-8 pm


Rowan's brand manager, Kate Butler, says in a video about the project that the aim was to get more people knitting in "the Kaffe way," which isn't difficult knitting, just a lot of color. "The projects involve multicolored squares, and you can choose to make an afghan, a small cushion, an oblong cushion or all three. Four colorways have been selected by Fassett for the project. Each one uses 10 different colors, and you can download the shopping list now (it's a PDF) if you're interested in the project. There will be instructional videos available as well.


Join MaryJane to knit the new KAL from Shibui Yarns. A fabulous hat knit in Shibui Pebble. October 8 & 22 6-8 pm
Join Sandy for the Free HELP DESK on Sundays October 12 & 26 from 12-2 pm if you have questions or need help on projects purchased at Amazing Threads.


Mark you calendars for our annual Fall Yarn Tasting
Friday, October 3: 10 am-8pm
Watch the web for fabulous prizes and more!


On FRIDAY, 10/3 REGISTER TO WIN this Jacket or 1 of several $20 Gift Cards to be given away at our YARN TASTING!
Freebies & Resources
Since FALL is HERE - It's time to knit PUMPKINS! Just CLICK on the PIX to link to the patterns~




A new Freebie from Michelle Hunter: Colormatic Cowl
Color work meets pattern mixing in this stylish cowl. Four colors of Kenzie yarn play together in a simple yet interesting knit. Pattern includes both charted and written directions and lots of video support. Try the short version for a quick knit or go for the long version to wear fashionably doubled.



North Woods Slipper Boots-Great Crochet Project


HAPPY STITCHING!
11262 86th Avenue North
Maple Grove, MN 55369
763-391-7700