We carry lots of Brands at our shop..Rowan, Berroco, Plymouth, Classic Elite, Noro, Cascade, Shibui, Baah Yarns, Vice, Yarns by Rhichard Devries, Anzula, Hikoo, James Brett, and more. We carry most Rowan, Baah, Shibui, Plymouth, Berroco and more. However, with many of the independent dyers we can't carry their entire lines - Trunk Shows allow us to broaden our selection for a day or two. These events let us mix up the shop and add something new. Its fun for our customers and the staff.
Watch Facebook & my Weekly Blast for Upcoming Events
We had a fabulous time last evening with Sabrina & Robert of Anzula. The displays were fun, the yarn FABULOUS and the colors breathtaking... SO MUCH FUN. I bought some of the stock they had and we have more on the way to add to our selection.
Julie grabbed some great yarns.
Just returned from my weekend with Austin and family. He had a fabulous birthday and lots of hugs and kisses from Nona...Its so fun to spend time with family.

What's On Our Needles?
Just casting on the Lullaby Blanket for Baby Schmitz..8 weeks to go...Can't wait for my granddaughter to fall asleep on my knitting.
Join Sandy for a 1-session Cable Workshop on Wednesday, June 25: 6-8 pm
Join Deb C to knit Sally Melville's Little Black Vest starting July 7 - Learn great techniques and its a fun knit. We all tried it on when Sally did her workshop - Flattering on all shapes and sizes S to 2X..
Heartwood Cape with Debbie starts July 10.
What's New
Restock on Berroco Captiva and Captiva Metallic - Perfect for the Anniversary Wrap - Angel is knitting her 3rd Wrap..I am so jealous..2 were on the counter for me to see when I got back from Jersey today.
---
Hot off Tolu's needles - Brooklyn Tweed Hoquiam: A beautiful cowl knit in HiKoo Kenzie
---
Rios is in stock - Love Bea's Slippers knit in Malabrigo Rios
---
Pinecones by DanDoh Designs- New Sample Crochet project in Butterfly Cotton
---
FREEBIES & RESOURCES
Blue Steps Baby Booties..free & so cute - Know where my thoughts are...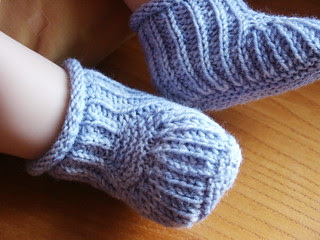 Love Leticia - Knit in Sport Weight - Think Frabjous Mad Hatter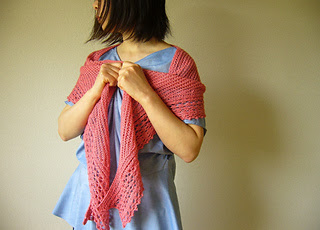 LOVE, LOVE Bermuda by Amy Miller...not FREE but sure cute with anything I wear..Love the Colors too. Knit in Fingering weight. and mostly garter stitch.
Stop in to catch something new: Inspiration abounds at the shop. Samples everywhere you turn.
Stop in for your fiber fix!