There is so much that makes me smile. Great kids, wonderful grandson and soon a granddaughter, my family, my customers, emails and more. It's so fun to have a GREAT JOB EVERY DAY. Thought I might share this with you. I thought the same thing for leftover yarn. Didn't work either.
Last week we cleared the decks. We are starting to reconfigure the sales floor. Lots of open shelves which are starting to fill with new yarn, notions, and more. Each week we have new STUFF. It makes it so fun to be in the shop. Last week in the middle of our sale 16 boxes arrived from Knitting Fever and 654 pounds shipped this week from ROWAN. There are some lovely new yarns here and on their way.
Clearance at 30% continues in the LOFT. We add new yarns whenever we come upon something that we are not going to carry any longer or something with just a couple of skeins in a dye lot. Great for a shawl or 2.

What's On Our Needles?
JUST OFF Angels needles is the Caret by Romi knit in Baah Aspen. Aspen is available only at Amazing Threads in MN and surrounding states. The color just pops on this shawl.
She also finished Bryum, in 3 skeins of Tosh Dandelion. The colors are gorgeous and the texture in the wrap is scrumptious.

Angel has cast on "Deep End" using Mad Hatter Sport, one her all time favorite yarns. LOVE, the fall color sequence. It will be here before we know it.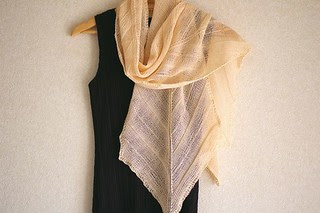 AND she also cast on "Banana Leaf" in Malabrigo Sikpaca.. A luscious silk and alpaca blend with 420 yards.....a steal at $11.50 a skein
Freebies & Resources
Just blocked, Panda Silk DK Fan Shawl - SO LOVELY.
Michelle is intrigued by the new Pathways Vest. Only takes 540-900 yards and looks to be an interesting knit. She grabbed some Maggi Knits Linen to start this week.
Audrey Shawl only requires 500 yards of fingering.
With all the new GINA..this would be lovely: Check out the Danube Miter Shawl
What's New
Great new Birthday knitting bags from Angel B.. What a fabulous idea.
---

Issue 13 of the Debbie Bliss Magazine is here.
---
Another great 2 skein project from Alchemy - Alchemy Sparky Shawlette. 1 skein Sparky, 1 Skein Tweedy.
---
Another great pattern for our new Freia Yarns: Lightwaves.
Pair the Freia with a skein of Mad Hatter Sport.
---
The Lakeside Wrap continues to be a BEST SELLER. Check out these combinations! More yarn on the way!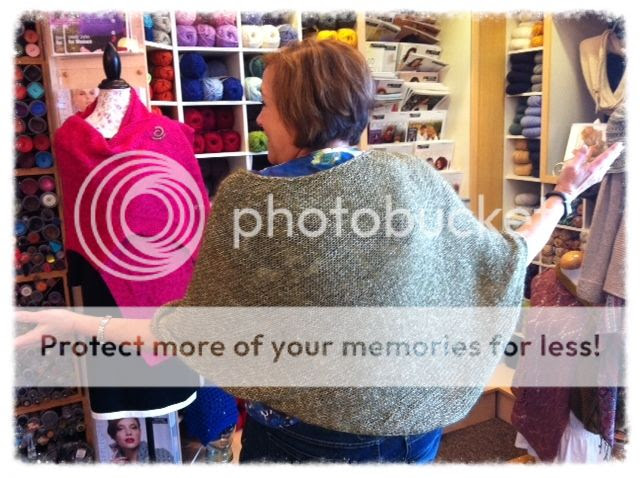 ---
New STUFF From WALKER BAGS
---
WE have ENCORE all restocked - ALMOST EVERY COLOR. This is the best yarn for afghans, garments for kids and adults and accessories. It's machine washable and dryable. We order deep to keep our customers well stocked.
Upcoming Classes with Openings

Great pattern, longer cuff and elastic make these toddler mittens stay-on little hands and keep them warm. Stay Put Toddler Mittens with Debbie starting Sunday, July 27: 12-2 pm.
Join Lindsey to knit Brooklyn Tweeds Wheaten: Choose either the scarf, shawl or throw. It's lovely in Baah Shasta. Starts Wednesday, July 30, 6-8 pm
Lindsey is also teaching Top Down Socks with your choice of method: Double points, 2 circular needles or magic loop. Starts Thursday, July 31, 6-8 pm.