We had a fabulous event last Sunday. Thank you all for coming to our Giftables Event.

It was a huge success. Many of our customers far and away have asked to see some of the projects. See many of the projects below. We will try to get them on web for purchase this week. We have all the projects on display at the shop as well. WANT IT NOW???? - Call the shop and they will get it in the MAIL NOW!

Just a few of our Giftables! More Next Week! Perfect in size and price. AND, you can get them DONE by the Gift Giving Season~
8 Button Wrap in Rowan Kid Classic
Selfie by CiD in Zauberball
Carmella Cowl
Fish Modern Hat
Tweedle Dee Dum Cowl
Tweedle DeeDum is a huge hit & a fabulous fiber.
Brunswick in Rasta & Bloom Striped Cow in Cashmere Queen & Baby Me Boo
Chunky Wunky in Gina Chunky
Mock Crochet in Misti Alpaca
Sweet 16 in Extra Windsor Terrace Hat Novi Hat
Couplet Fingerless knit in Malabrigo Silkpaca
Neato ~ so light and soft
Pure in Swans Island
Tree Mitts in Hollywood
Thick & Quick Cowl in Kenzington
Silvermist Bath Set
5th Ave Furrier Slippers
What's On OUR NEEDLES?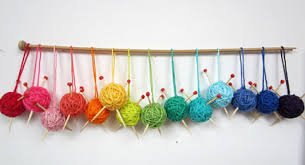 Tolu is working on her Stitch Block Cowl in Kenzie
I am working on the Wave Scarf - Pattern of the Month in Noro Silk Garden
UPCOMING CLASSES & EVENTS
Classes with Openings~
Learn to Knit with with Deb Coder in 4 sessions starting Wednesday, November 5, 12, 19 & Dec. 3 from 4-6 pm. Students will make a hat and/or a cowl during the 4 week session.


Thrum Mittens are the warmest ever. Join Deb for this On-Demand Class: Thursdays, November 6, 20 & December 4: 6-8 pm


Register on-line or at the shop. We have great new Thrum Mitten Kits in from Fleece Artist/Hand Maiden.
Knitting Mistakes got your stumped? Join Sandy for a 1 session class: Correcting Mistakes on Sunday November 23 from 12-2 pm.
Join Sandy for the Free HELP DESK Sunday, November 16 from 12-2 pm if you have questions or need help on projects purchased at Amazing Threads.

Kaffe KAL Continues on Wednesday November 5 & 19; L'Enveloppe continues Sunday, November 16: 12-2 pm

Freebies & Resources
Bubble Baby Blanket, Perfect in Worsted or Aran




Got a skein of light fingering - knit up Mpto




Two Color Brioche Cowl - Free through November 7

Great in any worsted weight - Use a solid and a variegated or 2 solids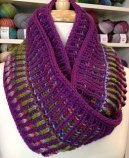 My McKinley Marie is 3 months old. Mom is back to work and I won't see her this weekend as we are off to Grandview for a great knitting weekend.

Here is her latest..so cute....And my Austin, too..Thanks for all the kind words on my Grandchildren..I love them to the moon and back!




Happy Stitching.....

11262 86th Avenue North
Maple Grove, MN 55369
763-391-7700