SALE STARTS Wednesday, January 21 through Saturday, January 24, 2015
Clearance Loft has been loaded with new yarns - All at 30% OFF
ALL Books in Clearance Loft are $3 - All Patterns in Clearance Loft are $1.00
Regular Priced Yarn is 20% off
Atenti, Walker, & dellaQ bags are 20% OFF
Sale excludes Malabrigo, Frabjous Fibers, Done Roving, Rhichard Devrieze Worsted & MadelineTosh yarns.
Sale not valid on previous purchases, applies to in-stock ONLY and discount cannot be combined with any other coupon or discount.
All yarns purchased on Sale are Final Sale.

We need to make room for mid-season yarns and spring yarns that are starting to arrive.
Merino Wool Worsted Hand-dyed by Rhichard Devrieze
Fabulous hand, and fantastic colors - Rhichard was the dyer for Koigu for more than 15 years~
New Limited Edition Wonderland Yarns 5 packs in Cheshire Cat, Mad Hatter, and March Hare are here. This month's combination of blues is fabulous; Hooka Smoke. Due to its popularity we also received 17 more packs in Mad Hatter in Painting Roses Red
We are knitting the Gradient Swoop using 1 pack of the Painting Roses Red (Packs are $38)
New Kits for the Fading Lines Cardigan are here in 3 colors: Kits include Rav Pro Pattern Download and yarn to knit small through 3XL. Choose Greys, Teals or Teal with jewel-tone colors. All are beautiful.
The Best of Jane Austen Knits is HERE!
Knit Swirl Trunk Show will be in the shop January 9 through 28.
This is our 3rd Trunk Show with beautiful garments. Stop in and pick your style.
We will start a Knit-Along in February! Watch for Details
The Knit Swirl Sweaters LOOK GREAT on EVERYONE- Tall, Short, Skinny, Plump. You will always be stopped when you wear your Knit Swirl Sweater!
What's On OUR NEEDLES?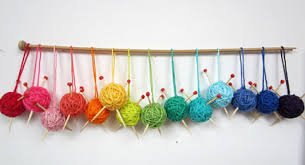 Morag is working on the Solstices Scarf by Cheryl Beckerich in Make It! Knits in Kenzington Yarn
On Deb Coders needles is Endgame, the scarf KAL from Knit Purl Hunter. She is working on clue 1, which was released on January 1. This will be the short version using three skeins of HiKoo Kenzie in Saddleback. So far the knitting techniques in this pattern are great--tubular cast on, built in I-cord edges, and cables that look good on both sides. There are links to videos for ltechniques, good pattern support.
UPCOMING CLASSES & EVENTS
Benon Headband starts Sunday, February 1 with Deb Coder, 12-2 pm - 2 sessions, Easy Plus


1 Session Intarsia Class with Deb on Saturday, February 7: 10am-1 pm


Learn to Knit Classes:
Mondays, February 2, 9, 23, & March 2 6-8 pm with Deb
Saturdays, February 21, 28, & March 14, 21 12-2 pm with Mary Jane
Thursdays, March 12, 29, & April 2, 9 -6-8 pm with Deb

Our 4 session Learn to Knits teach you the skills and you knit 2 projects: Cowl & Hat

Free HELP DESK on Sunday, January 25 from 12-2 pm if you have questions or need help on projects purchased at Amazing Threads.


Freebies & Resources
Love Sweet Nothings for a hostess gift or to celebrate Valentine's Day - Perfect in Plymouth Fantasy Naturale

Creekbed Scarf Pattern from Steven West is perfect in 2 colors of Tosh.




Winterfell Shawl would be perfect in Frabjous Tweedle Dee Dum, Rowan Cocoon, Berroco Chunky Alpaca, Classic Elite Chalet.

An ode to the GAME OF THRONES

Lace Topped Hat perfectly light for spring in Frabjous Mad Hatter Sport



Spent a wonderful weekend with family. Loved having my 2 grandchildren together here. Loved all the hugs and kisses and time with my girls, too.





11262 86th Avenue North
Maple Grove, MN 55369
763-391-7700