From my daughter Stephanie: "

You will never be granted more time in your day. Find what you LOVE and START doing it!"
How is your "SELFISH KNITTING" coming along? Or did you decide you just had to knit for others? I have spent the entire month knitting for me. A luscious zig zag cowl in 18 colors of Malabrigo Finito, one of FAVORITE yarns.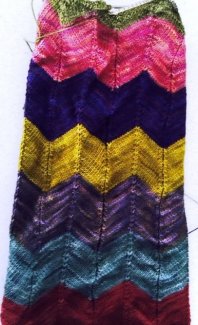 I have been in love with Finito since it premiered. The softest Merino in luscious colors. I do have a few favorites but Finito always comes out in my top 5 and this month it has been #1. Isn't it astounding to think that a simple skein of Merino yarn and a great pair of Addi Rockets can bring such pleasure as I knit? I LOVE THIS CRAFT
I love the process of knitting. I may even stretch my "SELFISH KNITTING" into February & March.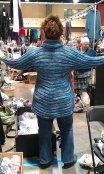 I am going to get back at my Knit Swirl in Claudia's Handpaints. Check out the KAL in this blast! I started it in 2014 but put it aside to knit some blankets, hats, and more for my granddaughter McKinley. What a pleasure it has been knitting for that cutie pie. Check out her fabulous hat knit in Big Bad Wool.

McKinley Austin in his RED (Favorite Color) Frabjous Hat
Join ME for a Knit Swirl Knit-Along starting Wednesday,February 4 from 6-8 PM
We will meet once per month cause there is lots of knitting! Sometimes we will meet during the week and sometimes on the weekend. We will determine times and dates at this Knit Swirl Kick-off. Anyone knitting a Knit Swirl garment is welcome as as long as yarn is purchased at the shop. The first session will be cover cast-on and first steps. There will be staff at the shop to help you purchase yarn for your project before we start. Any questions, stop in the shop for details.
GARMENTS are here ONLY THROUGH Thursday, January 29.


Malabrigo - We received Rasta, Rios & Nube in the shop today! This is a partial order so if you are in need of something, GET TO THE SHOP SOON!
Our Shipment of Unison came in from Skacel. Once skein paired with a solid color and you can knit this fabulous scarf or cowl. Easy Brioche knitting that looks much more complicated that it is! Pattern Magalog is free with yarn purchase while supplies last.
A new yarn from the Skacel HiKoo line is SimpliCria and it is already on our shelves.

Cria is the name for a baby camelid such as an alpaca, llama or vicuña. It is derived from the Spanish word cría, meaning "baby." Why is this Alpaca yarn so soft? SimpliCria is made with the finest 1% of all Alpaca Fleece. In our Peruvian mill, Alpaca is hand sorted two times. During the first sort, the top 10% of the fleece is set aside as Baby Alpaca (21-22.5 microns). After hand sorting the Baby Alpaca, the softest 10% is then designated as Super Baby Alpaca (19-20 microns).
NEW BOOK - SO CUTE!

Crystalletts Tag-A-Stitch & (NO SNAG) markers are back in stock.

Crystaletts Tag-A-Stitch is a package of over 50 assorted iridescent plastic marker disks for knit and crochet work. Most are printed with standard stitch marking notations, and several come blank so you can make your own notations. Each marker measures 1/2" in diameter.
What's On OUR NEEDLES?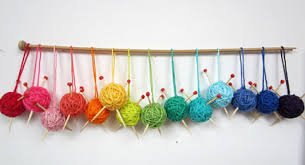 Deb is busy spinning in Anzula roving..so fabulous. She is doing a spinning class in February at the shop.
UPCOMING CLASSES & EVENTS
Benon Headband

starts Sunday, February 1 with Deb Coder, 12-2 pm - 2 sessions, Easy Plus


1

Session Intarsia Class

with Deb on Saturday, February 7: 10am-1 pm


Join Lindsey to knit

Jarod Flood's Seasons Hat

: Sundays, February 8, 22 & March 2 - Perfect in MN





Spin/Knit

with Deb on Saturday, February 21 from 10-12
Learn the process of spindle spinning your yarn for knitting or crocheting a small project.




Learn to Knit Classes: Many were filled so we added NEW


Wednesdays, March 4, 18, 25 & April 8: 6-8 pm
Saturdays, March 21, 28 & April 11, 18 10 am-12 pm with Mary Jane
Thursdays, March 12, 29, & April 2, 9 -6-8 pm with Deb

Our 4 session Learn to Knits teach you the skills and you knit 2 projects: Cowl & Hat

Join Deb for

Works in Progress (WIPs)

on Sunday, February 22 from 12-4
In WIPs you can work on any project you want to start or finish and get help from Deb.
JUST THINK~~ 4 hours to do nothing but KNIT! $30
Free HELP DESK on Sundays, February 8, 22 from 12-2 pm if you have questions or need help on projects purchased at Amazing Threads.
Freebies & Resources
Easy Peasy Shawl, perfect in Tosh DK, Frabjous March Hare or Plymouth Supwerwash DK
Love & Kisses Cowl is perfect in any of our Worsted: Rios, Plymouth Superwash Merino & more
Have A Heart Dishcloth or Hearts All Around are a perfect Valentines Gift when paired with a pump of soap!
Criss Cross Head Wrap - perfect in SimpliWorsted by Hikoo
Ten Stitch Zig Zag makes a quick blanket in worsted Gina, Liberty Wool, Rios and more
11262 86th Avenue North
Maple Grove, MN 55369
763-391-7700