Amazing Threads: So Much to Share Couldn't Wait til Tuesday
I got back into the shop on Wednesday after being gone 3 weeks and it looks Amazing. There are so many models and and so much new stock that I just couldn't wait to share it with YOU. So Check Out Below.
We can officially say that the center island is RASTA CENTRAL. This dye batch is fantastic. The colors are super vibrant ~ One of the best we have received EVER
Don't hesitate..get here now to grab a skein or 2..it won't last long!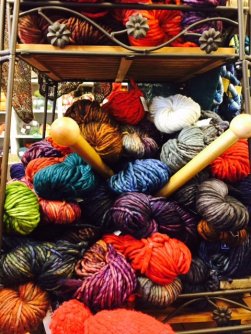 Silkpaca has also been restocked and we have a great new model kerchief model knit with only 2 skeins of the Silkpaca A project that costs less than $25




NUBE has also been restocked !
Tintinnio uses Nube for its pompoms..so clever!

A new supply of Lust, Sparky & Sanctuary with all the new Spring Colors from Gina at Alchemy has arrived.




Mechita, a new fingering from Malabrigo has beautiful new colors as well! It only takes




Grab 2 skeins of Mechita and knit a fabulous shawl ...so beautiful for SPRING


Love this Brioche Cowl - a class on our next schedule knit with Frabjous Mad Hatter and Zitron Unisono Pattern is in the new Skacel Magalogue
1 skein of Rios to CROCHET the Effortless Chic Beanie
New from Plymouth Bio Sesia 5 fingering cotton..Only takes 2 skeins. Less than $20 to knit the shawl

New from Alchemy..Hand dyed silk leggings YUM

Free HELP DESK on Sundays, March 8 & 22 from 12-2 pm if you have questions or need help on projects purchased at Amazing Threads.