Thank you for understanding about last weeks blast. I had my ankle replaced on Tuesday and had some glitches..but I am on the mend. The trouble is keeping me off the leg for a month..yes. no weight bearing, riding a knee scooter, not being in control and the list goes on. I am thankful for all the emails, cards, flowers. I am greatful to my manager and staff for taking care of the shop and our customers. I hope to be in the shop during Hop and hope to SEE YOU ALL next week. Check out the details and links within this blast.
Passover April 3-11
We will be CLOSED Easter Sunday, April 5.
Start Planning YOUR HOP Now


WHO:

Calling all knitters and crocheters and fiber enthusiasts


What

? Its a chance to visit all the shops in the Twin Cities over a 4 day period. Go alone or grab a friend or meet new knitters/crocheters along the way.
Get to every shop, win grand prize and Individual Shop Prizes.
Get a few shops and still be eligible for shop door prizes and 2nd Chance Prizes.


Where

do I start? Start at your local shop by purchasing an Easy or VIP


WHY

should I do this?


1. Donate cash to your local food shelf: Choose pay as you go or Easy or VIP pass:



AT CUSTOMERS GET into the shop and get your Easy or VIP Pass.


For each donation you receive a collectable stitch marker for your financial support!



WHY

Its lots of fun. Each shop has ordered specialty yarn just for the hop. Each shop has its own free Pattern that supports their yarn. Each shop has a free pattern for YOU. Donate for a collectible Stitch marker. Win door prizes and shop hop prizes: Grand Prize is a

$1000.00 gift certificate valid at any of the shops.




WHEN

: April 9-12, 2015
Shop details for each shop are on the MN Yarn Shop Hop Blog
We thank our Great Sponsors
Catch the details on our website!


We have taken a page from Modernist Rainbow to inspire this year's Project & Yarn for the Hop.



Garments from Josh Ryks will be on display during the hop. Angel has Aero on the needles. His designs are FABULOUS. He is cute, young and has a distinctive design sense.



We continue to get the shop ready for the Annual Shop Hop but that does not stop the spring orders from arriving.

Sirdar, that wonderful yarn company in the UK has moved distribution to a warehouse in the East and direct shipping to shops. Sirdar creates those fabulous yarns and pattern books for both babies, children and Adults. Sirdar also makes and distributes Sublime DK (a blend of cashmere, merino, & silk. These pattern books are also fabulous.


Sirdar Book 675 is full of lovely shawls perfect for spirng, summer and more!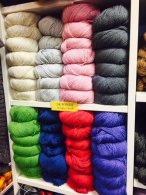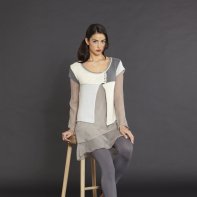 New to our shop this spring is Sirdar cotton silk dk which was created with summer in mind. Silk adds a touch of preciousness to this yarn and it catches the light with a beautiful subtle, polished surface. This luxurious touch of silk makes the yarn lightweight too. The yarn is simply folded, making it soft to touch and gorgeously smooth to knit… you can feel silk with your fingertips. Book 685 is great, too!

Vivid Colors of Weepaca from Big Bad Wool Yarns has arrived and I knit something asap for McKinley...


Grab 2 skeins to make the hat and the pattern is Free.
Brioche Knitting is inspiring most of our staff and lots of our customers. It started with the Brioche cowls Mary Jane knit for class samples and now is progressing to Knitting Fresh Brioche


This book has 12 projects, all wraps and scarves, and 12 might seem like a small number. But the glory of this book is that Marchant gives you 75 unique stitches that you can use in your own designs.
Curls are marvelously flexible, wearable wraps that work with any weight of yarn, can be knit at any gauge, and look beautiful at any size. They form a wonderfully curved shape that drapes beautifully around your neck and shoulders.

Finally back in stock - the best of last year!

Explore sophisticated design for the warmer

seasons in the Spring 2015 magazine. This issue includes 22 patterns, with a variety of pullovers, cardigans, tanks, tees, and accessories.

Very CUTE & Very Limited Stitch Markers
What's On OUR NEEDLES?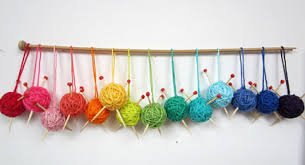 Just off Fey's Hooks are Striped Baskets created in Modern Cotton

Angel is finishing Aero by Josh...Lovely Frabjous Fibers



Watch for our Fiber Update
This child warms my heart~

Monkey is knitting himself some pants with Deb's help of course. Even on meds, Bobbi knows he can't knit...or Can he? He is very excited to model them and would have gotten a pix to Bobbi sooner but his typing skills need work!
  Dreaming of Provence a lovely spring hat with stranded bands of wildflowers and a cabled band using Unicorn Tails. 
Welcome spring!
Join ME for the NEXT Knit Swirl Knit-Along on
Sunday, April 19:2-4 pm We will meet once per month because there is lots of knitting AND it is FUN to do it together.
Michelle finished her Swirl started last winter (secretly,as I will blame it on drugs)
I Hate that she finished hers...



Free HELP DESK on Sunday, April 12 from 12-2 pm if you have questions or need help on projects purchased at Amazing Threads.
Freebies & Resources
Reversppible Rivulet It would be scrumptious in March Hare, Weepaca, or Plymouth Superwash Merino,

It needs a yarn with good drape. Stop in for staff recommendations.

Cute Flower Sandals or Flower Booties you can create before Easter


OpArt is a fabulous blanket for any baby or child. Perfect for Supreme Baby by James Brett. Its washable and has a large color range.

Still time to make The Hoppers in any worsted weight yarn.
We Inspire, You Create!
11262 86th Avenue North
Maple Grove, MN 55369
763-391-7700