Amazing Threads: WOW ~ What a market ~ Catch the Trends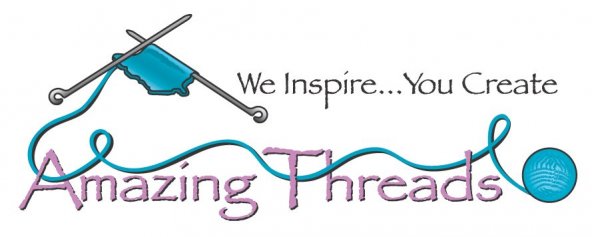 Still not home from market but will finish Board duties tomorrow and head home. It has been an exciting weekend. Lots of wonderful yarn, accessories, and models.

And it was the Haunter's Convention right next store to our market:
Look who was haunted!


Angel and I are inspired & ready to create. Here are just a few of the many wonderful things we found inspiring. I will share a few each blast and add some to Facebook, too!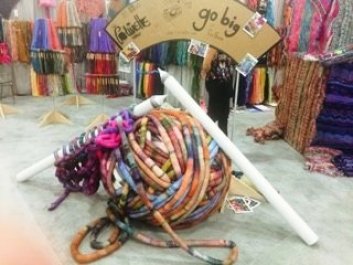 Skacel, the Addi Needle & Hikoo Yarn distributor had a great teepee made of knitted squares. Colinette created a very BIG BALL OF YARN: Go Big or GO HOME!

Enjoyed a wonderful dinner with the folks at Rowan including Martin Storey.
Martin is so fun and he hinted that we might get another Knit-Along with him soon. I let Kate, Rowan's director know that we loved his first blanket knit-along. Angel got a fabulous video of the new Swarovski crystals coming soon. Check it out on our Facebook page.


Anzula had a fabulous booth full of wonderful yarns..YES we ordered LOTS and brought some home, too!

They introduced 5 new colors and a great new fiber mix of 50 Merino & 50 Tussah Silk.
The yarn has great drape and sheen. We ordered "It Could Be Worsted" in a full array of colors to arrive as soon as dyed. We will have samples for you to touch by the end of the week.

We will welcome several new dyers and lots of new yarns to the shop this summer and fall. Brenda of Phydeaux has created lovely new yarns for us & patterns, too




New yarn, pattern and kits for mittens, too.




I will add more market finds next week and on Facebook, TOO!
Stop in to the shop and Angel and I will be glad to share our finds!



So excited to be inspired!






Great new top-down baby sweater knit in Kimera



Only 3 skeins! Pattern Free with Kimera purchase.


At the Seaside, Frabjous 5 Pack is a limited edition that is available in 3 weights

What's On OUR NEEDLES?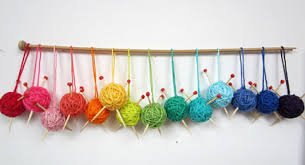 A hat on my needles. Creating some cute toddler and child hats in the new HiKoo Cabasi DK..


Class Updates

: Register HERE
Bevel starts Saturday, June 6 ~ a great summer knit
+


Mark Your Calendar & Grab your Needles. Each month is something new for YOU. Our summer knitting camp includes both skills and fun! AND it's FREE.

Camps are on SUNDAY afternoons from 2-4 pm

. The only catch is that your supplies must come from Amazing Threads.

June will bring YOU: Aethercopter with Michelle

Aethercopter is knit on size 7 & 9 needles using DK weight yarn = quick knit



Sundays, June 7, 14, 28 from 2-4 pm



Michelle is knitting Aethercopter in Sublime Cotton Silk - great knit& drape!

Join Deb for WIPS on June 14: Finish a project or start something new!

SuSUNDYSnne 14: 12-2 pm
HELP DESK Sunday, June 14: 12-2 pm
Join Fey to CROCHET a Linen Stitch Scarf on June 17: 6-8 pm

Freebies & Resources

Cotton Lace Ponchette: Great free pattern which can be adjusted at the beginning to have more eyelet lace or less to meet your size and design. Original pattern designed for sport weight yarn but any weight will work depending on the finished size desired. Grab a 3 skeins of Frabjous Mad Hatter or Baah Aspen

Plymouth Yarn Co has a great many free patterns to support their yarns. We carry some of their fabulous yarns. Grab a cute and easy baby blanket pattern and a few skeins and knit a blanket that will become a favorite "blankie."


Like Us


11262 86th Avenue North
Maple Grove, MN 55369