Amazing Threads: Family Fun, Flash Sales Continue & Summer Camps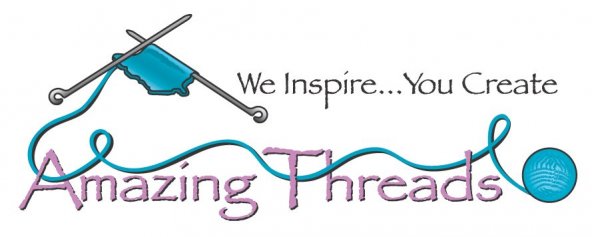 Hello from Jersey! Spent a wonderful weekend with all my family celebrating Austin's 3rd Birthday. It was so fun to have both the girls, their husbands, my husband and my 2 and a half grandchildren all together. Every morning I wake up and say, "the best day" ever. Being a Nona is so much fun~


We even spent a day at the Jersey Shore..didn't get in the ocean much..way too cold yet, but had a wonderful time with the kids.

The shop will start it's metamorphosis soon. We are beginning to sort out what stays and what goes. I always buy "too much yarn." This is your chance to get in on great yarn "STEALS" & "DEALS"




We will continue with 25% OFF the following Cascade Yarns


Cascade 220 Sport Superwash
Pacific Chunky
Ultra Pima Cotton
Ultra Pima Cotton Fine
Cascade Cloud
Cascade 220 Fingering
Magnum
Magnum Paints
Pluscious
Hollywood
Heritage Sock Yarns



ALL NORO YARNS - 25% OFF


Flash Sale limited to stock on hand.

Visit Whip It Up for great FREE patterns using Kureyon and Silk Garden -
Start your holiday knitting NOW

Cauchy
Koocheekoo


Vacation Time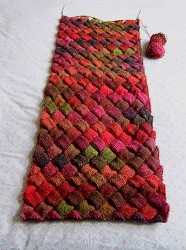 Entrelac



This week's Feature is Magi's Linen which is a combination of cotton and linen which creates a structure to the fabric and is a wonderful knit.

Purchase Maggis Linen to make either the Camas Bolero or the Tasseled Shawl and you will receive a 10% discount on your yarn purchase. Knit Club Members get 15% OFF.

I wear my Shawl all year round and the Bolero is a great fit on every shape and size. Flash sale limited to stock on hand.
Choose either pattern FREE with your Maggi's Linen yarn.



New DOT wrap sample at the shop knit in Kauni Effektgarn. 2 skeins required BUT you can reverse the MC an CC to create a second wrap.

What's On OUR NEEDLES?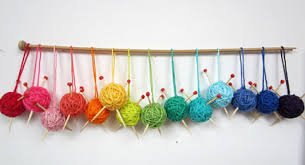 My project is under wraps as it is a design for our Fall Retreat! Here's a sneak peek~

Its in black and white so I don't give away the yarn....
Angel is working on Oki Doki in Noro Silk Garden..(ON FLASH SALE THIS WEEK)
AND Fractal Danger in Tosh Twist Light

Oki Doki
Fractal



Class Update




Aethercopter continues Sunday, June 28, 2-4 pm

Knit Along is free - You can start this Sunday
Click to Register




CROCHET IS HOT and FEY is a fabulous instructor..If this is on your bucket list REGISTER NOW. Learn to Crochet or learn to crochet flowers to embellish your hats, headbands and more....


Check out the Banjo Band..perfect for a crochet flower


Learn to Crochet with Fey, Sundays, starting June 28, July 12 & 19 12-2 pm


Learn to Crochet Flowers with Fey on June 28, 2-4 pm


You Choose Cowl with MaryJane starts Wednesday, June 24, 6-8 pm




Love Brioche? So Fun!

Register for Classes & Knit-Alongs on line!




Freebies & Resources



Ok..so you have a new baby or toddler and you want to make a hat..Which pattern do you use? Will it fit? Lots of questions. Check out the average head size info on our Facebook page and it takes the mystery out of what size hat to knit for each age~
While you are there "like us" for up to the minute links


Like Us






11262 86th Avenue North
Maple Grove, MN 55369