BEST SALE EVER - WE ARE MAKING ROOM FOR NEW PRODUCTS & CLEARING the SHELVES



Just a few of the yarns on-sale 20-30% off:

Classic Elite Vail, Vail Hand dyed, Tiverton Tweed, Chateau, Chalet, ALL Berroco (including Vintage), Rowan (except Pure Wool Worsted); Hikoo SimpliCrea, Misti Alpaca Chunky, Plymouth Alpaca Chunky, Road to China Light, Trendsetter Duchess and the list goes on and on!


CLEARANCE LOFT 40% OFF
CLASSROOM IS FULL
Here are just a few of the

40% off yarns

: Plymouth Coffee Beenz, James Brett Aran, Seasons, Berroco Blackstone Tweed, Plymouth Monte Donegal, Herriott, Miski Llama, All Bergere de France Yarns, Plymouth Stella Jacq, Cleo Cotton
All Sales Final & Sale applies to in-stock merchandise ONLY.
Anzula Trunk Show: Sunday, July 19: 12-3 pm
Anzula is bringing all their yarns and all their colors for a 1 day event. Stop in and let them help you create your next project! The Anzula staff are very FUN!



Anzula comes with their own TRUNKS...loaded with their beautifully hand dyed goodies..They bring lots of what we don't have in stock, TOO



Anzula made sure our "It Should Be Worsted" Arrived and it is on the shelves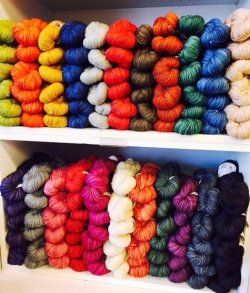 Like Us






11262 86th Avenue North
Maple Grove, MN 55369