Skip Navigation
Website Accessibility
Amazing Threads: Loving Fall! It's Sweater Time! I am Not Perfect! How About You?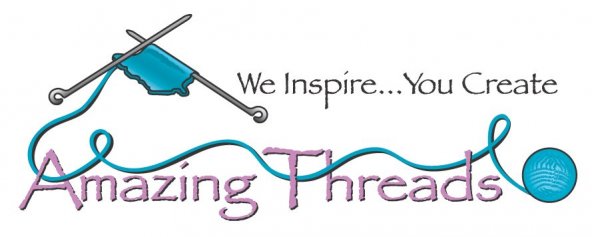 I LOVE FALL..the Chill in the Air is perfect for sweaters, ponchos and ALL KINDS OF KNITTING! September is definitely Sweater Knitting TIME!


BUT, here comes the guilt. I am not perfect! I have lots of projects in my queue. I also have projects I have not finished! YES, ME TOO! Although right now I can honestly say I cannot find my stash or many of my projects because half are in my new house and half in my old!
So, I have to go back to my rules! Work on UFPs (UNFINISHED PROJECTS) one week and start something new the next. It's probably still not perfect, but I can live with it!
HOW ABOUT YOU?

REGISTRATION for our 2015 Luxury Retreat @ Grandview Lodge is now OPEN.
We have limited space and cabins. Registration is processed once we receive your deposit.

ONLY 1 SPOT LEFT!
Click HERE for Details

As fall colors start to shine and we are not quite ready for coats, grab a wrap or a poncho. Both are HUGE for this season and fun to knit. Blue Sky Alpacas Two Harbors Poncho is a quick knit and in Blue Sky Extra - easy too!

Sublime Extra Fine Merino Worsted has arrived and we LOVE IT! An Aran Weight merino perfect for garments and accessories. As Always, Sublime has great pattern support Love The first Sublime Worsted Design Book




Universal Yarns Bamboo Bloom is BACK IN THE SHOP!
Takes only 1 skein ($12) to make this easy to knit cowl ~





Phydeaux Yarns have arrived at Amazing Threads & We Are Thrilled!



We love the new Soie Fingering & the Cachemire Mini Skein Packs



Mini's are perfect for the Riles Hat
UPCOMING CLASSES & KALs
Deb has added theStarry Mitten Class as one of our Classes on Demand. Register NOW!

This fabulous Mitten is knit from a Ewetopia BLF yarn kit. Luxurious & Warm. Class starts Thursday, September 24, October 1 & 8 from 6-8 pm
How to Read a Crochet Pattern with Fey: Sunday 9/27 from 2-4
---
Custom Fit Kickoff this Wednesday, September 23 6-8 pm


Come in just to find out how to make sure your knit sweaters fit.

It's FREE!~





Rowan is doing a KAL with Amy Herzog and you can join our Custom Fit Class to complete the KAL with Amy as well.
Amy Herzog, noted North American designer
and author of
Knit To Fit
and
Knit Wear Love
, has teamed up with Rowan and Westminster Fibers to create a special Knit Along featuring the new Rowan Pure Wool Superwash DK yarn.
Two projects will be offered in plain, texture and stripe color combinations using colors from the 32 solid and heathered shades
of Pure Wool Superwash DK.
Throughout the KAL, Amy will be offering tips, videos and posts for each step along the way - from casting on, starting the pattern, shaping, sleeves and sooner than you think, finishing. Watch for details on our website soon!

---
Join Deb to finish your projects of start something NEW!

Works in Progress (WIPs)

is offerred each month. Join Deb Sunday, October 4; 12- 4 pm

Register HERE!
Here is your opportunity to learn to spin and make Deb's Cross Top Beanie with your yarn. We spinners like to call it going down the rabbit hole and Deb would love to share teaching you a new skill! Malabrigo Nube comes in hand-dyed, 4 ounces of fibery softness.
Spindle Spinning & Knit Hat starts Monday, October 5 - 4 sessions
Perfect Class for New Knitters
Stitch Sampler Hand Warmers & Ribbed Scarf - October 10; 12-2 pm


---
Join Cori for Sweater Inspiration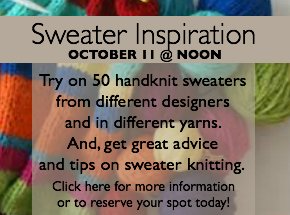 Register HERE
Fall/Winter 2015-16 Class Schedule is available on-line
---
FREEBIES & RESOURCES

A new free pattern from Classic Elite this week is the Telluride Cowl which blends the colors to produce Ombre Stripes


Cowls and scarves are popular projects with knitters for good reason – quicker to knit than a sweater, they always fit the wearer, and are so cozy and warm in colder weather. This week's pattern, designed by Audrey Kerchner uses 4 skeins of Telluride. The colors are used doubled stranded, changing one strand every eight rounds for beautifully blending ombre stripes. The 16 colors of Telluride blend and contrast for almost infinite combinations.

We have expanded our selection of Sirdar in the shop. All of their yarns, including Sublime have great pattern support. Check out these freebies for WONDERFULLY CUTE ANIMALS! Even I might knit one! The Citrus Monkey pattern is free this week!

Citrus Monkey


Like Us






11262 86th Avenue North
Maple Grove, MN 55369