Fall YARN TASTING Friday, October 9~10 am to 8 pm

Our biggest event of the fall season! 20% off Focus Projects FRIDAY ONLY!
Join us for fun, food, great yarn projects, prizes and more! We have projects for all levels of knitters and price points. This is the best event of our season. Projects are new and we feature the newest yarns.

More prize details 10/5.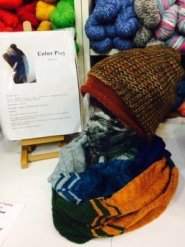 Mira Cole of Baah Yarns will be here Saturday, October 17 & 18. Lots of Models, Lots of Yarn. Mira will introduce a new yarn HERE FIRST! Join Mira as she casts on our newest KAL-Skipping Dots ON SUNDAY in her brand new yarn! Watch for details ~