We Wish You a Merry Christmas &
a Happy New Year
Take a moment to let the sounds and the sights of the season warm your heart and soul
Maxine, Mary Jane, Deb, Bobbi, Suzanne, Angel, Sabrina, June, Michelle, Heather, & Wanda.
We are missing Cid and Kate!
We Thank YOU for shopping with US!
We are happy to be your Local Yarn Shop (LYS)
Without YOU we don't exist
SEE it HERE, BUY it HERE, KEEP Us HERE!


We will close early on Thursday, December 24 @ 2:30 pm
Closed Friday, December 25:

Merry Christmas


Open Saturday, December 26 (10 am-5 pm) See Specials
Sunday, December 27 OPEN 12-4pm


You Do Not Need to Knit or Crochet THESE are Ready to Gift or KEEP!


Knit or Crochet Friendly Stocking Stuffers!






All day Saturday, December 26 Specials It's a CHUNKY kind of day!




30% Off Cascade 128

- 100% chunky wool - perfect for hats, mittens, cowls and more AND it felts wonderfully.


All Kid Seta & Kid Silk Haze Mohair, & Angel Mohair are 30% OFF


Encore Mega, Magnum, DeAire and Brown Sheep Bulky - ALL 30% OFF


All one-of-a-kind HAND DYED yarns will be in a basket at 25% OFF til they are gone





New from Frabjous Fibers is Queen of Hearts - a fingering weight blend of Cashmere, Merino and Nylon - So Yummy to knit and touch.....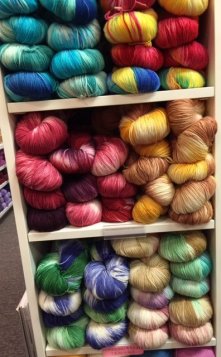 Our first shipment is variegated...next we expect our custom colors!