Skip Navigation
Website Accessibility
Amazing Threads Market Update & New Products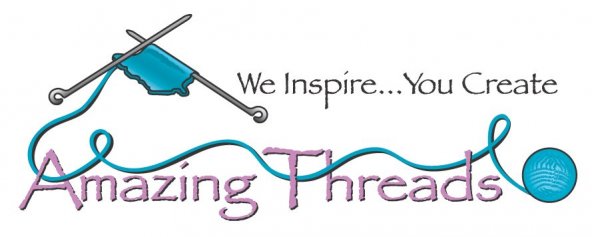 It's been a long week at market. The first two days I chair the Retail Council. In the middle I get to enjoy being a buyer on the market floor. At the end I am the retailers voice on the National Needlework Board. Long week and I get to come home tomorrow. I look forward to seeing the staff and our customers at the shop. Being the owner of a yarn shop is the best job in the world.

Thanks, of course to my staff and YOU!
Tonight's blast will be a little shorter, but for some of you that might be great!
Market report includes Fashion Show showstoppers & spring previews!



Skirts were everywhere and XRX will have a new book of skirt out next month!
T-shirts knit in every type of fabric will be fun to knit for spring, summer and fall!
Malabrigo has new anniversary colors in every yarn and LOTS of new RIOS colors
I ordered them all for US!

Rios will be restocked this week at the shop as well by Thursday!


I shipped a few things I picked up at market home today so there should be new surprises at the shop by Monday!

Classes & KALs
January classes are underway and new KALs start this MONTH! JOIN MARY WEDNESDAY for the

wedding shawl KAL
Crochet Rib Cowl - 1 session class and you will be done before your know it - January 16
Boot Toppers - 2 session class - January 14 & 21 6-8 pm
FREE Wedding Shawl KAL with Mary - 3 Wednesdays evenings: January 13, 20 & 27 - 6-8 pm
Downton Abbey Wedding Shawl
As the last year in the series begins, knit the Downton Wedding Shawl with Mary. Choose from lace or fingering weight yarn and small or larger size. Mary is knitting her shawl in Blue Heron Yarns Rayon Metallic (it has a hint of glitz)
The Brides of Downton Abbey inspired the creation of this lace shawl. Each section of the sampler depicts a word of encouragement from the previous brides of Downton Abbey.

So pretty - Join the KAL - 20% OFF Kits for KAL

---
---
Freebies & Resources
V

alentine Mittens

Knit in worsted -
choose a solid and self
striping for easy color changes or change colors as you go! Perfect in Rowan Pure Wool Worsted or Plymouth Worsted Merino Superwash

Snoodie
A great knit in DK weight yarn - Grab some Plymouth Superwash DK (2 skeins $15).
Pfeilraupe - Fabulous construction and perfect in Frabjous Mad Hatter

Like Us







11262 86th Avenue North
Maple Grove, MN 55369