Skip Navigation
Website Accessibility
Amazing Threds Knit for Me Winners, Clearance, New stock and so much fun!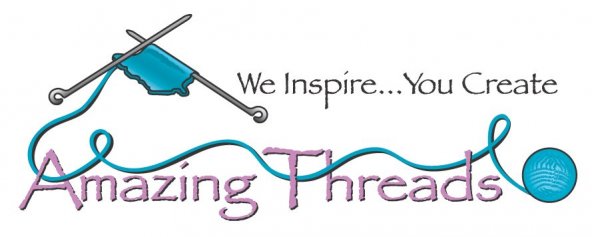 It is like Christmas in the shop again. The UPS and FedEx guys keep loading up their dolly to drop off new and exciting merchandise.


We have loaded the Clearance LOFT! AND, yes there are sweater and blanket quantities in many of the yarns. Each day as we move and clean the shop we will be adding new product to

CLEARANCE

. The LOFT also includes discontinued hand dyed yarns, bags and needle cases from Lantern Moon & dellaQ.

CONGRATULATIONS TO THE "KNIT FOR ME" winners which were selected by random drawing ~ Cris A. knit Snowflake Jacket in Mohair Haze & Swarovski Crystals from the Rowan Daytime Collection. Congratulations to Shelly M, too. She knit a fabulous Cozy Cable Cowl from Purl Soho in Artist Chunky Hand Dyed Merino from Feza Yarns.
Watch for updates as we reset the floor with new and wonderful yarns!


Plymouth Worsted & DK Merino Superwash has been restocked!
We received a shipment of the Fell Racoon Pom Pons! Some are discontinued so grab yours quickly. We still have a few on order!

I made a number of these cowls and they are VERY warm AND are scrumptious and not itchy! 2-3 skeins of Berroco Marmot & 1 skein of Malabrigo Mecha - Knit in the round on size 8 & 10 needles - The pattern is FREE and the cowl is perfect for those who cannot wear wool next to their skin! Purchase the yarn to make the cowl @

15% OFF Wednesday - Saturday this WEEK ONLY!



Classes & KALs
Join Mary Jane and knit Elizabeth Zimmerman's Baby Surprise starting February 11. This fun sweater is all knits and minimal finishing. Anyone who knits this classic baby sweater knits MANY more! REGISTER HERE!

The KAL continues and the next

KAL date is Monday, February 15: 6-8 pm


It's not too late to start as new squares get released each week.
KAL participants get 20% off their Pure Wool Worsted for knitting their blanket!

Shawl Inspiration with Cori

, March 13, 12-3 pm $10 holds your spot and can be applied to a shawl purchase that day!
Want a chance to look at 50 hand knit shawls, up close and personal? Wondering what shapes and styles you'd like to knit? Which yarns to choose or which colorway choices make you happy? We will go through 50 different styles, gauges, textures and constructions and then members of the class will be able to try on the shawls or take pictures to remind themselves what they liked and might want to knit.


Knit the cuddly VERA Bear with Deb starting March 3
Lots of Skill Builder Classes coming in March!
Learn color work by creating a cute Coffee Sleeve with Deb: Starts March 7
Learn to knit Cables - 1 session class on March 14
---
---
Freebies & Resources

Sock Baggie - great for small projects
Double Layered Braided Cowl - crochet with worsted weight yarn.
Rowan adds new patterns each month that are free @ KnitRowan.com
Pattern Library
You just have to register and log in. It is a great resource for inspiration as well. Check out Eveline - Scrumptious in
Big Wool Silk Purchase 8 or more skeins @ 20% OFF this week!

Also love the Sucre Cardigan in Brushed Fleece~



I am sharing a link that makes me smile! My Little MM dancing with her cousin. I get to spend a day a week with this angel! She is the little bit!


Like Us







11262 86th Avenue North
Maple Grove, MN 55369