Amazing Threads - Rowan Yarn of the Month, New Class Schedule, EZ/VIP Pass for Shop Hop for a Cause, Store Transformation & More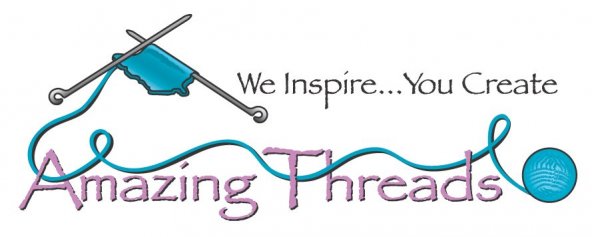 We had so much fun Sunday evening! We reconfigured the store and moved all the YARN!
Stop in and see how open and inviting the shop looks! Here is a sneak peek!

Mark your calendar for our

Annual Spring Yarn Tasting~


Friday March 11: 10 am - 7 pm


Refreshments, prizes and great Focus Projects

this year featuring
new Spring & All Season Yarns! PLUS a

FABULOUS Prize

for one of our lucky shoppers!

A YEAR OF ROWAN ~ March 2016
Each month we will feature one of the many great Rowan Yarns -


Every time you make a Rowan purchase you are entered into a drawing -




The March prizes include several Swarovski Bead and Yarn Kits


In March we are featuring Rowan Summerlite DK
In addition to the new Summerlite DK Collection of patterns we have FREE patterns with your Summerlite DK purchase!
Purchase Summerlite DK @ 15% off during the month of March


Spring Yarns continue to arrive at the shop!
AT welcomes Adorna Lux Knits Cashmere kits to the shop!

Regia Pairfect in Cotton is here - Knit the perfect pair of socks that match!
Berroco Modern Cotton & Vintage have been restocked and we have lots of new COLORS!
Modern Cotton
Vintage Worsted
Project of the Month! Yarnimals & Wendy Scarf Kits
The faces are already knit...all you do is knit the scarf!

VIP & Easy passes (food shelf donations) for the Minnesota Yarn Shop Hop can be purchased as of March 1 at Check the website and get all your questions answered. www.minnesotayarnshophop.com
There are 3 ways to donate in our Hop for a Cause!
VIP & Easy Passes can be purchased ahead via cash or check at the shop. All donations @ AT will go to
Your Donations are tax deductible and by donating early you get some great benefits! Check out the website
Classes & KALs

Spring Summer Class Schedule Available on-line & in the Shop NOW!
Lots of new and fun classes March through August. We will also be adding Pop Up Classes and Skill Builders. We are now offering classes on Friday late afternoon.

Check out the new Ravelry classes!

Join Sabrina to knit the new Shibui Spectrum Shawl or Scarf featuring Shibui Rain and Silk Cloud
Saturdays, March 12, 19; April 2 & 16, 1-3 pm
Register on Ravelry with Shibui as they are giving lots of prizes away!

It's not too late to start as new squares get released each week.

Shawl Inspiration with Cori

, March 13, 12-3 pm $10 holds your spot and can be applied to a shawl purchase that day!

ONLY 5 SPOTS LEFT


Want a chance to look at 50 hand knit shawls, up close and personal? Wondering what shapes and styles you'd like to knit? Which yarns to choose or which colorway choices make you happy? We will go through 50 different styles, gauges, textures and constructions and then members of the class will be able to try on the shawls or take pictures to remind themselves what they liked and might want to knit.


Knit the cuddly VERA Bear with Deb starting March 3
Lots of Skill Builder Classes coming in March!
Learn color work by creating a cute Coffee Sleeve with Deb: Starts March 7
Learn to knit Cables - 1 session class on March 14
---
---
Freebies & Resources

Bandol Cowl - perfect in 2 skeins of Funky Chunky
Let-it-Flow - Free for a limited time! Lovely in Kenzie, Rowan Summerlite DK or Cascade Ultra Pima
Willow - so snugly in Ella Rae Chunky Merino Superwash or Kenzington


Check out the
Little Easter Bunnies

Like Us







11262 86th Avenue North
Maple Grove, MN 55369