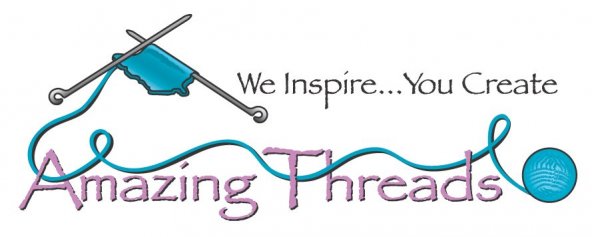 The countdown is ON..Shop Hop for a Cause begins THURSDAY, APRIL 7 @ 10:00 am




There are 3 ways to donate in our Hop for a Cause!
VIP & Easy Passes can be purchased ahead via cash or check at the shop. You will get your bag and Passport when you sign up. All donations @ AT will go to
Your Donations are tax deductible and by donating by 5:00 PM on April 6, you are

guaranteed

your pins and bag. Quantities are limited! We cannot guarantee that bags will be available throughout the shop hop!
The staff will decked out in honor of our THEME!
Just think how crazy that could be?
AT 10:00 am we will post our Shop Hop Yarns on Facebook and preview the patterns~
Our Shop Hop patterns will be available FREE at the shop to all hoppers!


The images will be posted on Ravelry but the pattern will not be up until after the Hop!


We will have Bundt Minis from the new Nothing Bundt Cakes in Maple Grove


@
8085 Wedgewood Lane North, Maple Grove, MN
CHECK the new store out and grab a Bundt after you taste one HERE throughout the weekend! maplegrove@nothingbundtcakes.com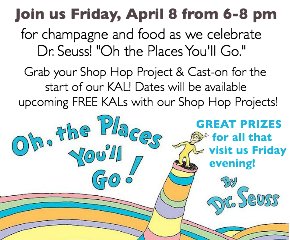 Lots of fun...Champagne, Great Prizes & More!
Cast on your AT shop hop pattern and knit away! KAL dates will be available for upcoming KAL for Shop Hop Patterns


Frabjous Fibers Pack of the Month Club: Day-Dream is here in all 3 weights:
Perfect pack for our purple lovers! LISA where are you!
Cheshire Fingering, Mad Hatter Sport & March Hare Worsted.
3 Pattern Picks from Frabjous for these packs are:
Fine Tune Cowl Striped Simplicity Quaker Yarn Stretcher Boomerang

We have lots of stock so grab

your favorites before they are gone!
Each month we will feature one of the many great Rowan Yarns -


Every time you make a Rowan purchase you are entered into a drawing -




The March prizes included several Swarovski Bead and Yarn Kits

!
Congrats to our winners! Cris Alves, Sarah Bryant, & Carol Frederick!

April Year of Rowan is Softyak DK
& Deb is teaching the Nambu starting April 21

SIGN UP HERE
Softyak DK
ChiaoGoo released the smallest-sized set of interchangeable circular knitting needles to hit the market! The new Twist Mini Interchangeable Set contains five sizes of surgical-grade stainless steel needles from US 000 to US 1.5, three standard cable lengths (with lifeline holes at each end), and all of the standard accessories that you'll need to put them to immediate use.
The entire set comes in a compact, two-pocket, black mesh case that fits easily into your current ChiaoGoo Interchangeable case. Also included is a sleeve with labeled pockets to hold the Mini tips.
Classes & KALs

Upcoming Classes-

REGISTER HERE



April 6 - Join Sabrina to crochet the Starling Handbag


April 7 - 1 session Skill Builder - Introduction to Double Knitting
April 9 - 3 great classes begin!
Bounce Baby Blanket, Raglan Lace Tee or It Seams Like Old Times Shawl


Learn to Knit Class Openings starting Saturday, April 9, 12-2 pm


Join Suzanne for the Briochealicious KAL Sundays, starting April 17 2-4 pm
You must know the basics of Brioche! Visit YOU TUBE HERE

Building Blocks Afghan by Michelle Hunter - April 20, 2016
Build your knitting skills one square at a time! Building Blocks is a series of 12 fun patterns that will build your knitting skills. Class meets once per month for 6 months - You will need to knit 2 squares per month!

Join Deb to knit Nambu, the perfect all season cardi in Softyak -April 21 @ 6 pm



---
---
New Samples!


Seems Like Old Times Shawl
Starling


Poncho Air in the new Plymouth Nettle Grove - Seasonless...


---
---
Freebies & Resources
Skittles Blanket - Crochet - I love it
Cute girls smoked tunic and leggings, too
Ombre Quintet - perfect in Frabjous 5 packs!
Bittersweet, nice in Rowan or Plymouth DK

Like Us







11262 86th Avenue North
Maple Grove, MN 55369