Skip Navigation
Website Accessibility
Amazing Threads: Ready for Spring? Check out the Technicolor Plaid Wrap! Projects in our Exclusive Anil!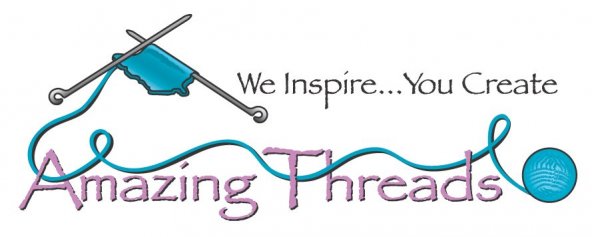 I think Spring is actually here to stay! And how would I know that you ask? The thunder and lightening this week tells me it can't possibly snow again!
WELCOME SPRING!


Anil, our exclusive colorway from Malabrigo Yarns continues to be a hit. Stop in and check out the new Samples in Finito, Rios and Rasta.
Qwist in Anil Finito
Anil Rios
New from Swans Island a limited edition fingering in Denim IKat
1 skein for a Hitchhiker
A new supply of yarn for Seuss-a-Fabrical kits & the Infinite Stripes Cowl has arrived!


Mother's Day Ideas! Pawley Studios Pottery

Gift Cards


New Noro Magazine
Technicolor Plaid Shawl Kit includes Reggae Ombre & Knitters Magazine 122 - so gorgeous!


Classes & KALs

One WIPs Class this month with Deb, Saturday April 30: 10 am-2 pm
$30 for 4 hours of expert help! Finish a project or start something NEW!

Pick a T-Shirt Class: Leigh, Marly or Insouciant by Julie Hoover starts May 12.
- Each of these T-shirts is a bit different but all from the same great designer. Pick the one that appeals to you. Lots of options!
A new 4-session Learn to Knit starts May 16
Learn to Crochet, a 3 session class starts May 21 with Sabrina.
1-session Skill Builder Class: Correcting Mistakes on May 21, 12-2 pm Learn to fix simple mistakes to keep you knitting!
---
---
New Products we love to KNIT!



Megan of Stockinette Zombies fame..loved our Shop Hop Baah Imagine! Click on the link to catch their podcasts.
Pincha Shawl with one skein!
Free on Ravelry.

I am in a Brioche kind of mood. Working on Cabito in Malabrigo Arroyo - We have lots in the shop for this project. Only 2 skeins - Black and a bright!


Maxine's Brioche Knospee Hat - 2 contrasting skeins of

Madeline Tosh DK


Sheep Mitts to go along with our Baah-ble Hat in Rowan superwash DK

Freebies & Resources

Step into Spring: Baby Headband and booties~Crochet!

Fairy in Love Mittens for Spring!
Bear Hug Tunic for that perfect 4 year old fashionista!

Happy Spring to ALL~ Spent last week with McKinley and will see Austin & Avery at the end of May!

Big Brother on the slide

Like Us







11262 86th Avenue North
Maple Grove, MN 55369