Skip Navigation
Website Accessibility
Amazing Threads: Shibui Trunk Show, A New Grandson, &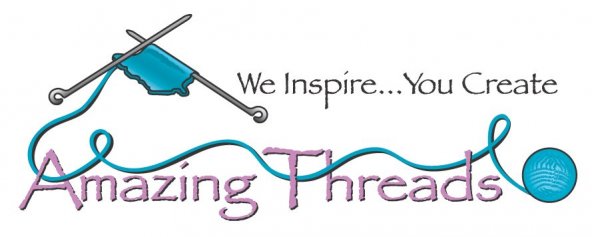 This week we welcomed Carter Ryan into our family. He joined us Monday, weighing in at 8 lbs and 10 oz and with beautiful blue eyes and a full head of strawberry blond hair. I am now Nona to 4 beautiful and healthy grandchildren. I am so blessed! Thanks to all our customers for letting me babble on and on and on!


And because McKinley's Mom and Dad are at the hospital she is staying with Nona & Papa! Lots of fun, lots of walks, and thank goodness I can relax and knit when she goes to bed!
Tonight's blast is a little shorter as she is keeping Nona VERY busy!
Memorial Holiday Hours: We will CLOSE ONLY on Monday, May 30

Open regular hours Friday, Saturday, Sunday & Tuesday

Shibui Trunk Show May 17-31: 15% Off In-stock Shibui Purchases
Check out the SS 2016 LOOK BOOK
We have all the garments, some in multiple sizes

. All of these garments are timeless and put Eileen Fisher designs on the back burner. Easy knits that create wonderful garments that look good in ALL sizes!

Our year of Rowan continues with this month's focus - Pure Wool Superwash DK. Each time you purchase any Rowan products, enter to win books and yarn celebrating our featured yarn. This yarn is great for color work as well as adult and children's garments.



15% Off Pure Wool Worsted DK through May 31





Alchemy Tweedy & Silk n Straw has been restocked We are so happy that Gina is dyeing her yarns so pretty again!

Can't wait to see Gina & her new colors at Market in June





Knitscene Handmade 2016 Special Edition is here and I love It...And Frabjous Fibers is featured in a the Loveland Cowl that will be on our shelves next week!

If you haven't picked up a copy, grab one quick this edition will sell out!

Classes & KALs
Learn to Crochet, a 3 session class starts May 21 with Sabrina.
1-session Skill Builder Class: Correcting Mistakes on May 21, 12-2 pm Learn to fix simple mistakes to keep you knitting!
Freebies & Resources
Since Babies are high on my list these days...the perfect baby blanket in Ultra Pima..for any season and any baby!
A Tisket, A Tasket!


Lizard..perfect in any yarn, any gauze..You Pick


Like Us







11262 86th Avenue North
Maple Grove, MN 55369