Skip Navigation
Website Accessibility
Amazing Threads - Holiday Hours, Discontinued Rowan & Clearance Loft 50% OFF, & LOTS OF NEW to INSPIRE YOU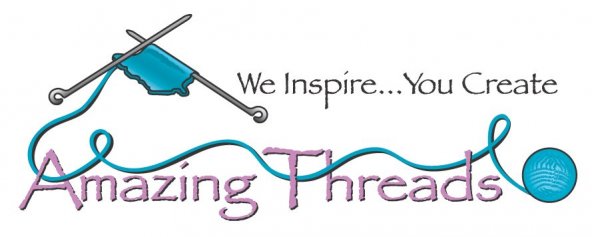 Holiday Hours

We will ONLY BE CLOSED Monday, July 4, 2016
Open regular hours Saturday & Sunday

We are purging lines and Rowan has discontinued LOTS of Yarn and colors.


We have moved DISCONTINUED Rowan PLUS lots of other new yarns and strays into the clearance loft.
CLEARANCE LOFT 50% OFF Wednesday, June 29 to Sunday, July 3
This is the time to start your gift knitting!

July Help Desk for OUR customers
Sunday, July 9 - 12-2 pm


Our Blue Sky Fibers Woolstok has arrived!

This new premium pure wool yarn is created from the fleece of select Peruvian Highland sheep and processed in a state-of-the-art mill, it combines Peru's textile tradition and today's technical innovation with Blue Sky's signature aesthetic and commitment to quality. Strong and sturdy, yet gently plied to give it loft, lightness and a soft hand,

Woolstok

is a true workhorse if there ever was one. Comes in a great selection of colors. The neutral shades are available in 373 yard 150 gram twisted skeins while all colors are available in 123 yard 50 gram twisted skeins.

Great Pattern Support as well!


New Frabjous Mad Hatter mini skein packs are here as well as new colors.

Addi Turbo Olive Wood Interchangeable needle sets have arrived. They are FABULOUS! Angel and I scooped a set for ourselves!
SRP $250 - Introductory Price $225
3 NEW COLORS OF Milli Colori Baby arrived!
Trendsetter Transitions Kits are HERE in all kinds of colors- $30 to make your statement!

New Books/Magazines:


Now through November, buy 3 Addi Rockets and get one free. You can do this as many times as you wish! Knitting with the right tools makes the process oh, so pleasurable.



New Samples in yarns we LOVE!




Another Sakasama finished and I love it! It is becoming my go-to chill chaser~It's light and looks great on all sizes and shapes!
Angel's Elwood & Mac in Rios - so precious
Classes & KALs
---
---
Freebies & Resources

Devil's Backbone, Free through July 10, 1 skein fingering weight sock yarn!

Liplatus - perfect in our luxurious Amazing DK
Daisy Fields Market Tote - Crochet on bulky and so fun!
Schal Quiraing - crochet fingering!
Spent the weekend taking care of Carter & McKinley..they wore me out but it was FUN!
I don't do selfies well cause my hands were hugging those babies~
Like Us







11262 86th Avenue North
Maple Grove, MN 55369