Come on in...Inspiration is Everywhere!
We are celebrating Christmas in July!
Our Annual Mid-Season & Summer Clearance
OFF


Here is a partial LIST..THERE ARE LOTS OF BARGAINS!


Loft is 40% OFF & it has been restocked with great buys!
All Rowan Yarn and Books are 30% OFF - Rowan in the Loft is 40% OFF
Misti Alpaca Yarns & Chunky Alpaca 30% OFF
Geilsk Yarn 30% Off
Trendsetter Duchess (cashmere blend) 30% OFF
Most Cotton & Cotton Blends are 20% OFF
Select Project Knitting Bags 20% OFF
Berroco Vintage 20% OFF
Classic Elite Yarns 20% OFF
Anzula It Could BE Worsted 20% OFF
HiKoo SimpliWorsted, HiKoo Cria, HiKoo Kensington 20% OFF
Debbie Bliss Donegal Tweed 20%
Ella Rae Cozy Prints 20% OFF
Shibui Linen & DK Alpaca 30% OFF
All Noro 20% OFF
Schulana Silk 20% OFF
Hand Dyed Alpaca Scarves & Silk Leggings 20% OFF
Creative with Clay: Yarn bowls and mugs are 25% OFF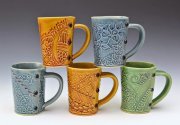 Stop in and Register to Win a set of Bamboo Interchangeable Knitting Needles!
Online Shoppers ~~ Call the Shop to place your order if products you want don't reflect a discount..we are in the shop to help you and have staff to assist!
Sale is limited to stock on hand and discount cannot be combined with any other discount or coupon. All sales final.


Mira of Baah Yarns
does it again! So talented! We already have her first shipment of yarns that Pool on purpose in Baah LaJolla and Savannah! Wonderful Color Names as well
Grapefruit Sangria, Violet Martini, Blue Hawaiian, Wild Flower Honey, Kir Royale & Lavender Love. All ARE YUMMY!
For more information check out Martina Behm's Pool & Conquer

We are restocked on Dipped and Dappled as well!
Trunk Show is here until August 10, 2016 & It's got a lot of wonderful pieces!


New & Restocked Bags from Plymouth Yarns - Lovely and hand made!

Anzula Meridian has been restocked. A lovely Tencel, Alpaca, Nylon Lace weight as well as Cloud!


New Samples in yarns we LOVE!



Suzanne has a possible retreat sample on her needles as do I! This is just a teaser!