Join us this week and weekend at the shop and at Vogue Knitting Live.


Check out all the fun in the blast and scroll down for Halloween pictures of my wonderful grandchildren (and their parents, too)
Check out the Free gift with purchase available at the Mad Hatter Tea Party, in the shop and @ Vogue Knitting Live
Catered Event with Bubbly & Tea with 2 of the hottest designers and hand-dyers of the decade: Meet Stephanie who dyes all the LOVELY Frabjous Fibers Wonderland Yarns and 5 packs. She also dyes OUR own exclusive luxury Amazing DK yarn.


Stephanie is going to hand carry her new exclusive DK luxury blend of alpaca & merino for you to touch before Vogue Live!


Meet Nicky Epstein - designer extraordinaire...she has published more knit and crochet patterns and books then any other designer in the past 15 years!




Welcome Stephanie & Nicky!
Both these ladies are so talented and you get to meet them, and enjoy great appetizers, bubbly & tea at our Mad Hatter Tea Party Event!

Suzanne and Maxine, our 2 Brits are sure to make this tea authentic & fun!

We have a limited number of openings so register HERE.

Cost is $10 to hold your spot and can be applied to your purchase on Thursday.



We will have several "knitting, design & fiber artists" in our booths at VK Live. Specifics times published next week!.

We welcome, Stephanie of Frabjous Fibers, Nicky Epstein, Franklyn Habit, & Romi Hill!


Catch Romi Hill for a book signing Saturday 12:30-1:15 in our booth

SPEND $125 at the Mad Hatter Tea Party, @ VK Live in our booths or in the Shop Friday, Saturday or Sunday and receive the
NEW Amazing Threads Bag FREE
Limit 1 per person and bags are limited to stock on hand. Quantities are limited.


Shop Samples debuted at our Giftables Event ~ So Fun


All can be ready for Holiday Gift Giving IF you start NOW
Design 27 Poncho - NEW staff favorite and a quick knit in Ella Rae Superwash Merino Chunky!
Honey Wheat Hood and Learn to Knit Hat & Scarf also knit in Ella Rae Superwash Merino Chunky

Love the soft, quick to knit Double Button Hat & Coffee House Cowl in Berroco Super Bulky Noble
My Favorite Hat Kit & Vineyard Cowl: Vineyard Cowl knit in Shibui Alpaca DK - 1 skein and our November Pattern of the Month
Cabito Hat & CaPito Cowl in Malabrigo Arroyo & Cabito (arroyo) and the Be Confident Cowl Frabjous March Hare
Plumage Warmer Set in Feza Artist Chunky
Hilltop Cowl with yummy cables & Scrunch Slouch Hat in Debbie Bliss Falklands Aran (sigh..so soft and squishy to knit and wear!

Slip Stitch Cowl & Hat featured in Vogue Magazine in Plymouth Worsted Merino Superwash

Tribeca.. a favorite piece that looks good on everyone is a 2 skein project in Amazing DK. This reminds me of Sally Melville's L'Enveloppe with its
asymmetrical shaping


LUXURY GIFTABLES & the LAUNCH of String @ TRUNK SHOW


We launched a few Luxury Giftables on Sunday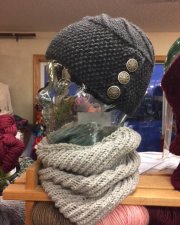 Lexie & Diagonal Ridged Cowl in Classica Cashmere, Park City Cabled Headband and Cowl in Dolcetto, & Chevy Chase Hat & Bel Air Oversized Cowl in Norway Bulky
Patterns available only at String @ shops See Yarns HERE


AND we will have the String @ Cashmere & Cashmere Blend garments at Vogue and at the shop this weekend. Amazing Threads is a String @ Shop.




Classes & KALs