It's been a VERY busy April and there is still more to COME!

I LOVE FIBER!


Stop in to see us @ YarnOver on Saturday, April 22



Come See us @ the Marriott~ New Yarns and more at YarnOver ~ Visit us in Booth 4 ~ Pick up a coupon!
Joji Mystery Wrap "Starting Point" will be released beginning May 12
and continuing for 5 weeks!

Watch for our KAL dates!


Joji provides MORE details on Ravelry! Mira of Baah Yarns has put 5 kits together which are available at Amazing Threads. Each of the colorways is available for

PRE-ORDER

by calling the shop with a 50% deposit or ordering on-line HERE with payment in full. Shipments will go out sometime next week. COLOR OPTIONS:

Love is in the Air
Nature
Sophisticate
Spring

Origins


Pre-Order On-line or call the shop 763-391-7700




Save your spot with Sandy Barnes Thursday, May 4, 5-8 pm
Sandy is the FABULOUS Shibui Stylist ~

Sandy is bringing all of the SS2017 garments along with other seasons and some designs by designers who LOVE SHIBUI!


Refreshments, Fun, a Personal Stylist, a Great Fashion Show, Prizes & Discounts, TOO

Click HERE!

$10 holds your spot and it can be applied to any Shibui purchase that evening
REGISTER on-line HERE


SHHHHH...Plus there is a Shibui discount during the EVENT, TOO!





Trendsetter Autumn Wind has added some unique speckles and more!
Love Michelle's new Stonewall Poncho
great stitch definition


Congratulations to our SHOP HOP WINNERS & Thank you to our CUSTOMERS!



AT customers donated $5400 for CROSS plus the match makes this an amazing amount of $$ for CROSS, our local food shelf.

OVERALL, Hoppers Donated almost $50,000.00 to the local charities!

AT customers donated more than 10% of the total!
YOU are all FABULOUS~ THANK YOU
Bari won the GRAND PRIZE: $1000 Gift Certificate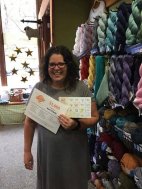 Congrats to LuAnn who won the $200 Gift Card to AT
& Judy H. who won the 2nd Chance $50 Gift Card.