This reminds me of Fall and coincides with ALL the Fiber Arriving DAILY!

Catch the video on Facebook!



Join us for Ice Cream, stop and knit a bit and check out all the new arrivals!


We will demo how to make dryer balls with feltable wool!

SEPTEMBER 2017 EVENTS!




Anzula Trunk Show Returns Saturday, September 23, 2017


Sabrina dyer extraordinaire, the owner of Anzula will be here to give you the history of Anzula and the evolution of the hand dyed yarns! Not to be missed!
Sabrina will talk @ 11:00 am
Trunk Show Sales 12-2 pm


Blossom Chunky & DK


2 Kits from Dragonfly for The Casapinka Moroccan Magique KAL that starts 8/11

Pre-Clue given 8/8


Amazing DK & Hookah Smoke 5 packs are back in stock for the Storm Cloud Hat & Cowl

Andrea Mowry New Mystery KAL "WHAT THE FADE?" which starts August 31 Maxine is scheduling KAL; dates available soon!
Angel created some lovely combinations! OR bring in some from your stash & We will use those to build you a "What the Fade"


Our fabulous kits containing EVERYTHING you need but Needles are here from
Heidi & Lana: 2 Shawls, 2 Poncho's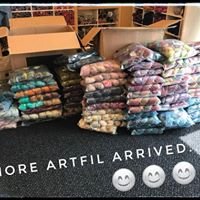 More Artfil Has Arrived PLUS More next week & we got some of our EXCLUSIVE COLORS

What's On or Just OFF our Needles?

3 of the 5 retreat projects are Off the Needles! Our theme: "ITS A WRAP!

Still on the needles!


Our Annual Grandview Retreat Registration FOR 2018 will open to the public Wednesday, August 15. Details available soon.