New from Baah Yarns is "New York." A superwash single ply that is scrumptious to knit.



The newest Laine has arrived!
These books are simply beautiful.


Laine is a high-quality Nordic knit & lifestyle magazine for knit folks. We cherish natural fibres, slow living, local craftsmanship, and beautiful, simple things in life. Our intention is to inspire you to gather and share, to be part of a community of like-minded knitters, makers and thinkers from near and far. Knitting is more than just knit, knit, purl. It is a feeling. Laine includes patterns from the leading knitwear designers, insightful, long-format stories from the world of wool, interviews, exciting travel articles, seasonal recipes and strong, visual storytelling.



The lovely people at Rowan were able to get us 16 skeins of Sultano in Prune Purple. This yarn and the colors are a "1 and done" Selects. We now have all 4 colors IN-STOCK. Once this is gone there is no more!
Order OR purchase 2 skeins and receive a the free booklet that has great patterns for this yarn!


Order OR PURCHASE 4 skeins and we will throw in the hat and cowl pattern developed for Vogue Live New York 2018 and the booklet, too!
NEW from Lana Grossa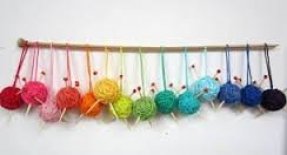 What's On or OFF Our Needles?



A new & fun Scarf and Shawl in Urth Yarns Uneek
Butterfly - Papillon


AND
Streamlines in Uneek Worsted

& Blend on the Water Sample..so pretty
Kits are HERE



Classes & KALs