Our LIVE Ribbon Cutting will take place at 5 pm which Rowan will launch worldwide

So come in and help us celebrate!



WE are pleased to welcome Dee Hardwicke all the way from England.
Dee will teach 2 colorwork clases~



Colorwork is EVERYWHERE THIS FALL~





Dee is only teaching at 8 shops in the United States
We are so lucky to have here in our shop. She only takes 12 students per class so you must register early to save your spot. Both classes which include materials and refreshments during class.
If you LOVE colorwork, Dee is the master!


10 new colors of Malabrigo Rios have arrived. Plus Malabrigo Book 12: Elements


Furreal and Alpine Faux Fur is luxurious and fun to knit and very reasonable..These 2 yarns have it all for FALL~




Baah LaJolla's Limited Edition September Color is GRAND!



Vogue Knitting Fall 2018 i
Color work is the RAGE this FALL!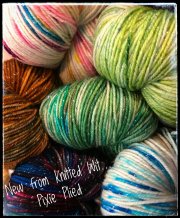 New Pixie Plied from Knitted Wit arrived and I had to a skein

West Yorkshire Spinners Retreat Chunky
is a roving quality and a soft twist that glides off the needles, Re:treat creates smooth, light fabrics with a luxurious silky texture. The wool selected to make Re:treat comes from an exciting cross breed of Bluefaced Leicester - famous in British hand knitting for its soft handle - and Kerry Hill – renown for its distinctive markings and clean white fleece.

Watch for Shibui Launch on Thursday: New Yarn & Patterns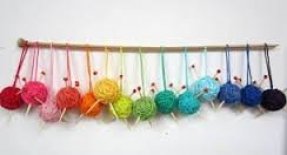 What's On or OFF Our Needles?



Our Casapinka Crown Wools KAL has finished and the results are lovely!


Classes & KALs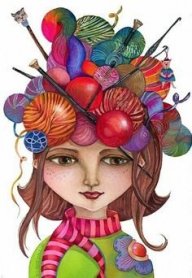 REGISTER HERE
Buachaille Baffies begins September 12: 6-8 pm
Join Sabrina for these DK weight "house slippers"! Learn the Turkish cast on and knitting in the round on 2 circulars!


Learn to Crochet starts September 15: 10:30-12:30

ONLY 2 Spots LEFT~

This 4 session class will offer the instruction necessary to learn four basic crocheting stitches, how to work with rows and rounds, how to read basic crochet patterns, and how to make swatches. The projects will include fingerless mittens and a stitch sampler cowl
Camote Pockets Scarf begins September 15: 3-5 pm Join Sabrina for this great winter accessory - a scarf with pockets!


Light From Within is an adorable crocheted shawl.
Class starts September 22 ~ A perfect 1 skein project!
Mary Jane Added a Knitting your Next Project starting 9/22:
This is a perfect next class for new knitters or those wanting to take up knitting again because you pick your own project!
Learn to Brioche: Harlow Hat begins October 6: Join us for a great tutorial into the world of Brioche Knitting! Maxine will guide you through the lovely Harlow Hat by Andrea Mowry! (Must know how to knit already) T

his is the 4th time we have added this hat since August..ONLY 3 spots LEFT





Our Season Sweaters first project is Hatcher

which begins October 13 with Mary Jane. The pattern comes with multiple sleeve lengths.



Kodikas

begins 10/14..if you are new to color work this shawl knit in DK weight yarn is perfect for color work newbies!
---
Freebies & Resources

Uppsala
Slippers are fun to knit e and wear
Starburst Lace Yoke Sweater is an easy top down knit in dk weight yarn..
Mindfulness in Malabrigo Mechita
Bubble Gum Pop Beanie
---

Like Us






763-391-7700
11262 86th Avenue North
Maple Grove, MN 55369