Amazing Threads Hours for Pick Up, Virtual Shopping, Virtual Knitting, Free Learn to Knit Classes, Help Desk, KCM Codes for Online Shopping & more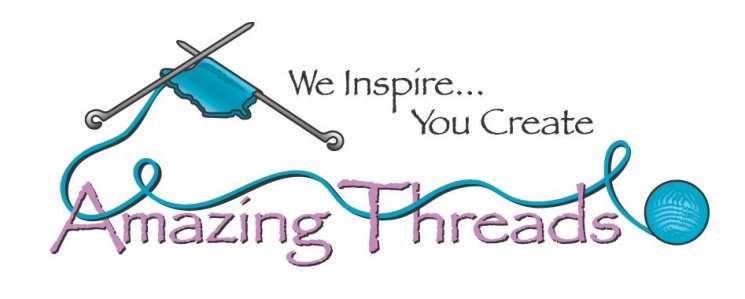 Happy Easter & Passover to all who celebrate these holidays during this stressful time
in the USA and the world

mm
p
We are open for curbside pick up Monday-Thursday & Saturday 10 am - 2 pm and by APPOINTMENT as well. Closed Friday & Sunday


NEW: Virtual Personal Shopping with Bobbi via zoom,
Monday-Thursday 1-3 pm or by appointment
Please set up an appointment by calling the shop or emailing
info@amazing-threads.com
Current Knit Club Members eligible for 10% OFF need a code which will change montly to purchase on-line and receive your 10% discount. I have been refunding it for you all.
Please call me and I can provide you the code
We have scheduled Virtual Knitting and a Virtual La Bien Aimee KAL. Join us for minute or 2 hours.. the codes will work every scheduled session

Opportunities for Virtual Knit & Crochet with Amazing Threads
Tuesdays at 07:00 PM Central Time (US and Canada)
Meeting ID: 679 734 497, Password: 281157

Saturdays at 10:00 AM Central Time (US and Canada)
Meeting ID: 436 796 844, Password: 754886
Download Zoom on your device and login. It's that simple.


La Bien Aimee KAL starts April 9: 7-9 pm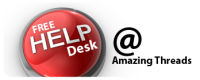 Virtually with Wanda via ZOOM
Thursday, April 16: 4-6 pm

Meeting ID: 166560979 Password 3218885

Rowan has developed Kids Knitting On-line which are free and virtual. So pleased we are a Rowan Flagship Store~ This doesn't have to be for kids only it is for anyone who wants to learn to knit. It was also developed to help our new crop of home school parents and their children. An activity you can do togehter.
Lots of colors and great in any Easter basket
We put together Kids Knitting Kits that include 1 ball of Rowan Big Wool, needles, a darning needle all in a beautiful Rowan organza knitting bag for $18.50 which is our cost. Kits can be shipped to you or we are also ding curbside pick-up.



Lets teach everyone to knit~ We can do this!




Mason-Dixon Field Guide 14: Refresh is available 4/10/20
Four wonderful designs from Carol Feller
---
Freebies & Resources
Sore Ear Savers for taking the strss off your ears from wearing our much needed masks


Like Us






763-391-7700
11262 86th Avenue North
Maple Grove, MN 55369
Save
Save
Save
Save
Save