AND so are the Holidays...so it is gift knitting time!
We have project suggestions and yarn & needles to assist in your gift knitting.

Join us Sunday for our ANNUAL Gift Knitting Event

Quick & Simple Projects - Ideas & Inspiration

AND a list of gift ideas for you to share with your friends and family too!




Join Stephanie on November for Holiday Gift Knitting @ our Friday Night Stitching




Works in Progress is available in November and December and a perfect for gift knitting



Our 2021 Grandview Retreat was FABULOUS!



Jillian Moreno did an amazing presentation on yarn, plies, and more.

We introduced new products at the retreat which are now at the shop!


Meg demonstrated spinning and shared her handspun yarn, and
we will have it at the shop as well!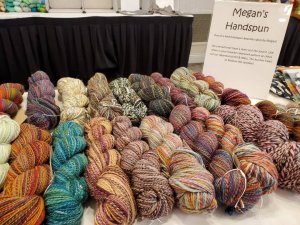 Mira taught us about color, cast-ons, and more! Simply AMAZING!