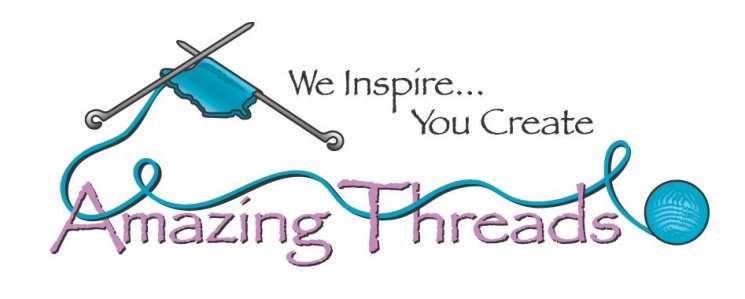 The Rowan Spring Collection is here! Celebrate the changing of the seasons with these lovely knits, bright florals, and

JOY

!
Rowan Magazine No. 71 contains patterns from some of your favorite designers including Georgia Farrell, Kaffe Fassett, Lisa Richardson, Quail Studio, Martin Storey and more!
Other new releases include Tea Garden with patterns from Martin Storey, and several new Mode at Rowan books!
Enjoy a 40% Discount on Rowan Moordale and Valley Tweed! Sale ends March 8th so grab it while you can! Discount available both in-store and online.

Valley Tweed is a fingering weight yarn which can be used to make the striped Bradfield Scarf by Lisa Richardson. Moordale is a DK weight used to make Martin Storey's Cloudberry Poncho.

NEW Kidsilk Haze Colour is the latest addition to the Rowan line just in time for Spring! Enjoy your favorite Kidsilk Haze yarn, now with a subtle variegation!



Issue No. 40 of pompom magazine is now available! Dreamscape is filled with whimsical patterns filled with floaty fabrics and embellishments!
Eucalan Wool Wash has been restocked! This is our favorite wool wash for all of our handmade garments! This no rinse formula gently cleans and conditions your fabrics! Available in-store only.
One of the newest samples in the shop is the Felted Tweed Colour Cowl. Using only one skein of Rowan Felted Tweed Colour, make the perfect color faded cowl to wear long or doubled up. Pattern free with purchase of yarn.


Our customer Lindsey is test knitting the customizable 8 Bit Doodle Hat for Pacific Northwest Knit Designs! How fun is this hat knit in Plymouth DK Superwash and Baah Sonoma!
Our customer Lorri is knitting Andrea Mowry's Illuminate Sweater for the DRK March to May KAL! How gorgeous are the Red Stag Fibres Estate DK and Farmers Daughter Fibers Oh Dang together!
If you're still looking for inspiration for which project to choose to knit for Andrea Mowry's March-May KAL, Maxine has you covered! There are so many sweaters and shawls to choose from. Pictured are: Pink Fizz, Rose Cardigan, The Weekender, Birds of a Feather, and The Shift.

The As You Wish Mystery Knit Along may have started February 27th, but there is still time to join! This INCONCEIVABLE KAL from Lyrical Knits is based on the beloved movie The Princess Bride! You will be making a rectangular shawl using four different skeins of fingering weight yarn. See pattern details here.

As the first session has passed, please call the shop to register for the remaining sessions.
Andrea Mowry's March to May 2022 Knit-Along has been announced! It is the perfect excuse to cast on that sweater or shawl you've been dreaming of. Join Stephanie starting Saturday, March 5th from 10:00AM-12:00PM for this KAL event spread over five sessions during the three month period. Browse her sweater and shawl patterns on Ravelry.
The next Friday Night Stitching is scheduled for March 18th! Register and mark your calendars for a fun night out with fellow knitters and crocheters! Enjoy a fun filled evening of food, discounts, prizes and more! We hope to see you there!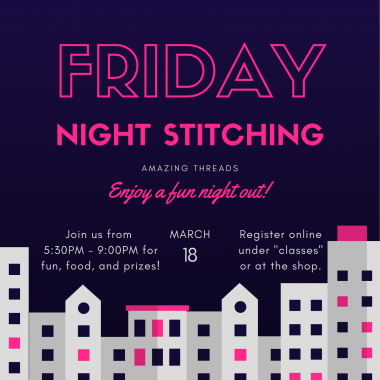 New Works in Progress Sessions have been added in March!
New Learn to Knit Class has been added in March!



Join Maxine for a technique class on the Kitchener Stitch! One two hour session is all you need to learn how to join seamlessly using this stitch! Class is March 26th from 10AM-12PM.
Learn to Knit Socks using TWO Circular Needles! Join Susan for this class and learn all the steps for knitting socks on two circulars. Class starts April 24th.
REGISTER FOR CLASSES HERE
Remember we have social knitting every week on Tuesdays, both in the morning and evening. Join us Tuesday mornings from 11:00AM-1:00PM or Tuesday nights from 5:00PM-7:00PM. Free with Knit Club membership!
---

Let's think SPRING with patterns this week.
The Sunflower Wand Flower by Ami Amour is a cheerful, Aran weight project that will be sure to bring a smile to your face!
March Knit Blocks by Annah Homebird is a tulip patterned afghan square that will make the perfect blanket for your living room or bedroom this season.
Nature's Walk Blanket by Sandra Paul is a soothing and fun blanket inspired by the afternoon walks the designer takes with her dog.
Ridged and Wrapped by Stephanie Shiman is a lovely wrap knit it mostly stockinette with purl ridges scattered throughout.
Like Us

763-391-7700




11262 86th Avenue North




Maple Grove, MN 55369