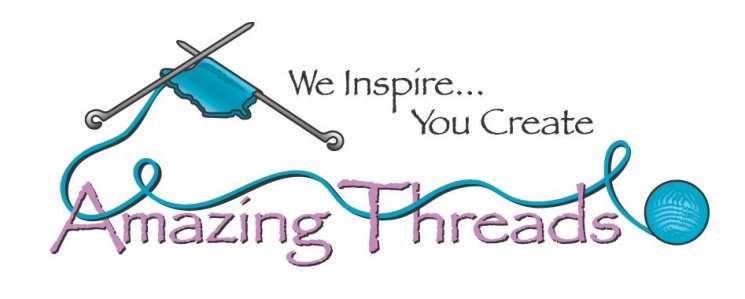 Today is International Women's Day and we are so very thankful for all the strong, intelligent, and talented women in our lives.

We are celebrating today by giving a discount on select items! TODAY ONLY, enjoy 15% off your yarn, bags, and book purchases both in-store and online!
Online orders use code: 376Z8

Your purchase will enter you into a drawing for a prize!


This week has been all about getting ready for the Minnesota Yarn Shop Hop! Our favorite weekend is quickly approaching! This year's dates are April 7-10, 2022.




The theme for this year is Minnesota State Parks, and this week we announced the state park that is inspiring our pattern and yarn at Amazing Threads!

Our state park is the Forestville/Mystery Cave State Park in Preston, MN. Mystery Cave was discovered in 1937 and is over 13 miles in length making it the longest cave in MN. Stalactites, stalagmites, fossils, mineral deposits, and lakes are just a few of the incredible cave features found inside!



New in the shop this week is the March '22 Colorway from Baah La Jolla! Grab your favorite skein or two as we work our way through the year in colorways!

This week on our needles, Maxine is working on Blum by Rachel Illsley in Blue Sky Fibers Woolstok Light.
Heidi is busy working on her Sunday Cardigan by Petite Knit using Woolstok Worsted and Farmers Daughter Fibers Oh Dang!

Andrea Mowry's March to May 2022 Knit-Along is underway! It is the perfect excuse to cast on that sweater or shawl you've been dreaming of. Join Stephanie on select Saturdays from 10:00AM-12:00PM for this KAL event spread over the three month period. Browse her sweater and shawl patterns on Ravelry.



As the first session has passed, please call the shop to register for the remaining sessions.
The next Friday Night Stitching is scheduled for March 18th! Register and mark your calendars for a fun night out with fellow knitters and crocheters! Enjoy a fun filled evening of food, discounts, prizes and more! We hope to see you there!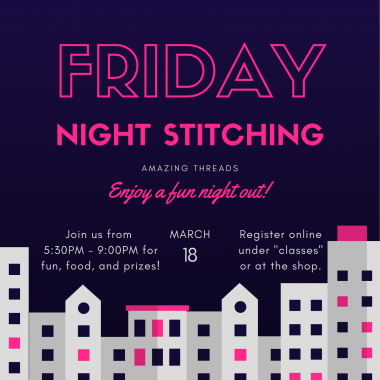 New Works in Progress Sessions have been added in March! A few spots remaining for THIS Saturday!
New Learn to Knit Class has been added in March!
Join Maxine for a technique class on the Kitchener Stitch! One two hour session is all you need to learn how to join seamlessly using this stitch! Class is March 26th from 10AM-12PM.
NEW Brioche Class added to the schedule! Join Maxine for Arsringar by Jonatan Tollow for this stunning brioche shawl. New brioche knitters welcome!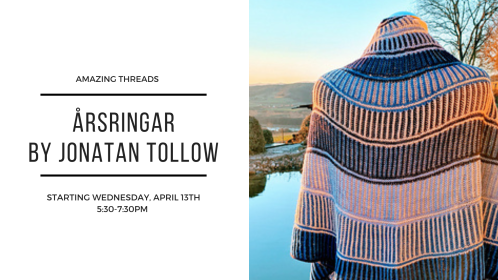 Learn to Knit Socks using TWO Circular Needles! Join Susan for this class and learn all the steps for knitting socks on two circulars. Class starts April 24th.
REGISTER FOR CLASSES HERE
Remember we have social knitting every week on Tuesdays, both in the morning and evening. Join us Tuesday mornings from 11:00AM-1:00PM or Tuesday nights from 5:00PM-7:00PM. Free with Knit Club membership!
---

We found some adorable baby patterns we hope you enjoy!

Wee David by Taiga Hilliard is a quick knit in aran weight yarn making this the perfect go-to gift for all children ages 0-6.
Sweet Treats by Rashami Sarode is the cutest crochet hat using worsted weight yarn. Make one of these hats for the little cupcake in your life!


French Macaroon by The Noble Thread is the sweetest little sweater pattern knit in DK. This boatneck sweater has a little button closure in the back to allow for easy dressing.


The Aviator Hat by Sarah Zimmerman is the most adorable hat crocheted in worsted weight yarn.


Like Us

763-391-7700




11262 86th Avenue North




Maple Grove, MN 55369