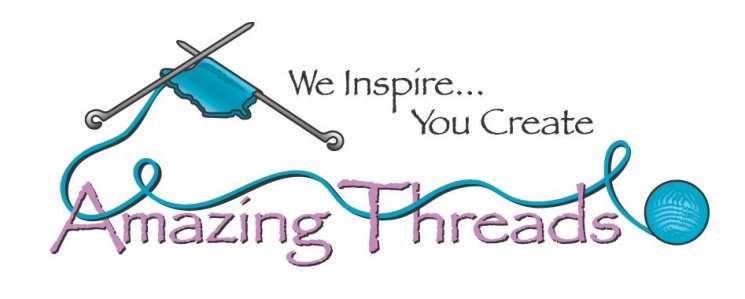 We are getting so excited for the Minnesota Yarn Shop Hop! We hope you've marked your calendars for the weekend of April 7-10! Remember, the theme this year is MN State Parks. Amazing Threads will be representing Forestville/Mystery Cave State Park.
EZ Passes are now available! Each participating store is collecting monetary donations for their local food shelf. Amazing Threads is collecting monetary donations for CROSS Services. By making your $50 donation in cash or check at the store, you will receive your official Shop Hop Passport and EZ Pass sticker! Donating $50 up front saves you $10 off the recommended donation of $5 for each store.
Show your EZ sticker at each shop you visit during the Hop to receive that shop's giveaway item while supplies last!


This Week's Featured Yarn: Softyak DK




We have so many yarns in the shop that you may not know about them all! This weeks featured yarn is

Softyak DK

. A perfect all-season yarn for any climate.


Softyak DK is a luscious yarn that plies cotton, yak, and viscose fibers into a sturdy, chainette structure to create fabrics with fantastic lightness and drape. The combination of Yak and cotton means it knits like a fine wool yarn, is not stiff, and will not stretch either. Your knits will be superbly soft and exceedingly comfortable to wear year-round!



This yarn is perfect for the Garter Stitch Pullover (size inclusive).
Pattern is available at the shop with Softyak DK purchase.

We stock all of the beautiful colors of Softyak DK ranging from neutrals to rich jewel tones, and each of the nature-inspired shades is full of depth and dimension.



Easy Peazy Shawl - 3 skeins and free on Ravelry.

It's also worth noting that Softyak DK is machine washable, meaning it's a great option for adult and kid-sized sweaters, or anything else you prefer to be easy care!



Celosias is the perfect spring/summer project in Softyak DK.


The latest book from Laine Publishing is available for preorder! Contrasts is a pattern book focused on textured knitting. Filled with 22 patterns including sweaters, scarves, and hats all with some sort of textured detail like lace, cables, and more. Reserve your copy today!




New Regia Sock Yarn from Schachenmayr is in! 4-Ply Winter Hues collection is filled with warm and cozy colors that self-stripe as you knit!
4-Ply Funky Stripes Yarn is a bright and colorful yarn that self stripes in crayon-like colors!

Maxine's group that is participating in the Lyrical Knits "As You Wish" Mystery Knit Along have been busy working on their shawls. This Princess Bride inspired pattern has been a lot of fun to read and knit to.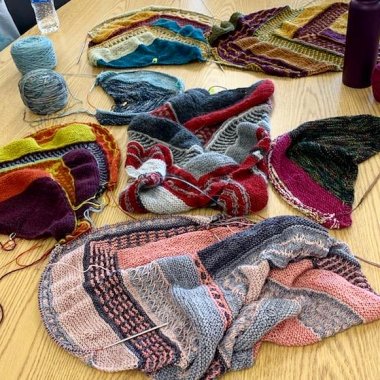 Our Novice Cardigan sample is displayed in the shop! This is the perfect 1st sweater pattern for knitters ready to take that step! Sign up for the class starting in May! Sample knit in Tahki Yarns Superwash Bulky.

Andrea Mowry's March to May 2022 Knit-Along is underway! It is the perfect excuse to cast on that sweater or shawl you've been dreaming of. Join Stephanie on select Saturdays from 10:00AM-12:00PM for this KAL event spread over the three month period. Browse her sweater and shawl patterns on Ravelry.

As the first session has passed, please call the shop to register for the remaining sessions.
Only ONE spot remains for Friday Night Stitching this Friday, March 18th! Register and mark your calendars for a fun night out with fellow knitters and crocheters! Enjoy a fun filled evening of food, discounts, prizes and more! We hope to see you there!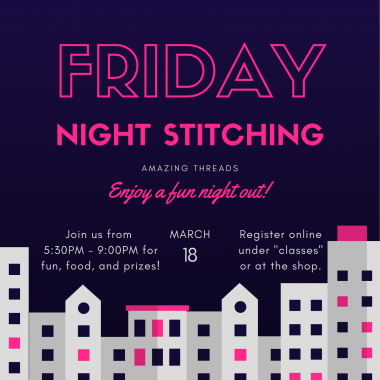 The next Works in Progress Session is March 24th!
Only two spots available in the Learn to Knit Class starting March 31st!
Join Maxine for a technique class on the Kitchener Stitch! One two hour session is all you need to learn how to join seamlessly using this stitch! Class is March 26th from 10AM-12PM.
A Brioche Class is on the schedule! Join Maxine for Arsringar by Jonatan Tollow for this stunning brioche shawl. New brioche knitters welcome!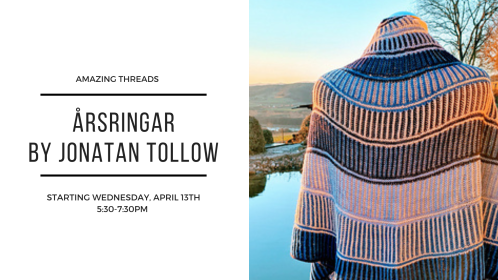 Learn to Knit Socks using TWO Circular Needles! Join Susan for this class and learn all the steps for knitting socks on two circulars. Class starts April 24th.
Join Suzanne for the Shades of Peony Shawl class starting May 5th from 5:30-7:30.
Suzanne will be teaching another Novice Cardigan class starting May 12th. This is the perfect class for first time sweater knitters!
REGISTER FOR CLASSES HERE
Remember we have social knitting every week on Tuesdays, both in the morning and evening. Join us Tuesday mornings from 11:00AM-1:00PM or Tuesday nights from 5:00PM-7:00PM. Free with Knit Club membership!

In honor of St Patrick's Day this Thursday, this week's free patterns are shamrock inspired!


The St. Patrick's Day Chapeau by Sharon Mann is a fun aran weight crochet pattern, sure to bring a lot of smiles to your St Patty's party.
This knit Shamrock applique by Samuele Scomparin is a fun fingering weight knit that would make the perfect addition to a hat, shawl, or used as a pin on a bag.
We love the idea of these little crocheted Four Leaf Clover Bookmarks by Amigurumi PianoSound. They are useful and make a great gift!
The Ireland Rugby Hat by Pinko Knitter is a great knit hat that is perfect for all of hat season, not just during St. Patrick's Day.
Like Us

763-391-7700




11262 86th Avenue North




Maple Grove, MN 55369