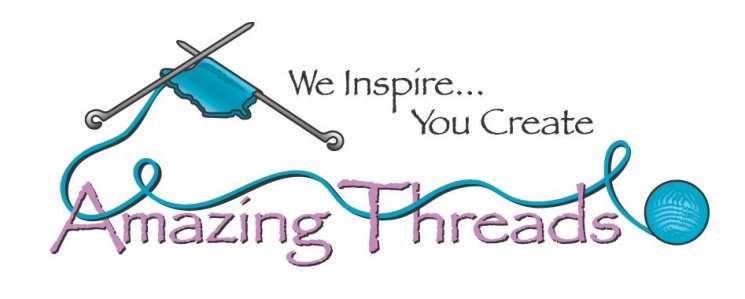 This weekend was the Minnesota Yarn Shop Hop, and what an incredible weekend it was!
Thank you to those of you that stopped by and hopped with us! There were so many friendly faces - individuals & groups simply happy to be Shop Hopping again!

A special thank you and welcome to our new friends that visited us for the first time!
We are so glad you are here!



One of our favorite things about Shop Hop is that it gives back to the local communities! With your help and generous donations, we were able to collect over $4600 to donate directly to CROSS Services! THANK YOU for your donations!!!




It is with great pleasure we introduce the Karst Mystery Shawl!


It uses one skein of Baah La Jolla and one skein of Primrose Homestead Sport. The pattern along the bottom of the shawl is mosaic knitting, meaning that it is knit using only one color at a time and slipping the other stitches as you go!
A stunning pattern accessible to all levels of knitters!


We have both kits and individual skeins of each yarn available to purchase that are ready to take home with you if shopping in-store, or ready to ship out to you if shopping online!



Ready for the next big event? Join us at Yarnover 2022 on Saturday, April 30th right in Plymouth, MN! Head over to the Yarnover website for details & registration for classes and other events. You'll find us in the Marketplace!

NEW Juniper Moon Damask yarn is our newest linen yarn available just in time for summer knitting! This 100% linen yarn is a sport weight, perfect for warm weather tees, shawls, and more.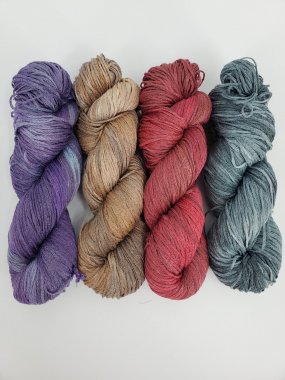 We *JUST* got our restock of our Amazing Threads EXCLUSIVE yarn - Simply Sport! This 100% Superwash Merino is a gorgeous sport weight yarn in a variety of solid colors. Each colorway has a Minnesota inspired name!
Laine Magazine Issue 14 is now available for PREORDER! This edition is full of patterns inspired by Nordic summer nights. It features 10 patterns full of colorwork, texture, and delicate details in the design.
Making Issue 13 is also available for preorder! This edition entitled Outside, draws inspiration from childhood memories made while spending time outdoors in Spring and Summer.

For Shop Hop we had over TWO DOZEN new samples throughout the store, all of which were made by our wonderful staff! It makes these projects extra special because it is items they chose and were inspired to make for themselves. How cool is that! We'll be featuring some of these beautiful samples in the upcoming weeks!


Susan's Roman Villa Shawl is a MUST SEE in person. It is absolutely stunning! Knit in Farmer's Daughter Fibers Juicy DK, it is a gorgeous piece you can dress up or down. Love the colors in the sample? Pre-Order your kit today!
Maxine's As You Wish shawl is knit in Life in the Long Grass Singles. This shawl was a Mystery Knit Along that wrapped up last month. Inspired by the movie The Princess Bride, the pattern is full of fun movie references and each section has a theme based on a part of the movie. Certainly an entertaining knit!

The next Learn to Crochet class starts April 20th!



The next Learn to Knit Class starts May 18th.
Friday Night Stitching for April is on the calendar for April 22nd! Invite and friend and register to ensure your spots!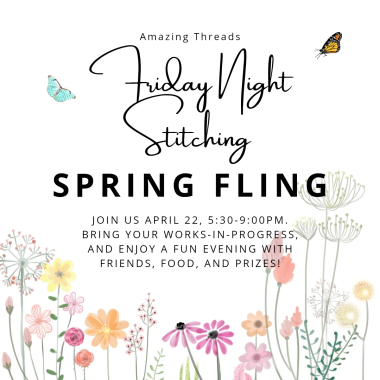 The next Works in Progress Session is April 28th!

Here We Gnome Again - Now offered both in-person or virtually!
Join us for the upcoming two-part class series with Sarah Schira of Imagined Landscapes! If you have fallen in love with the cute knitted gnomes like we have, you do not want to miss this event! Here We Gnome Again starts on May 7th. Sarah will be joining the sessions via Zoom and we will have experienced gnome knitters in class with us to assist with any questions.
REGISTER FOR CLASSES HERE
Remember we have social knitting every week on Tuesdays, both in the morning and evening. Join us Tuesday mornings from 11:00AM-1:00PM or Tuesday nights from 5:00PM-7:00PM. Free with Knit Club membership!
---

We found a few adorable Easter inspired patterns for you to enjoy this week!
The Easter Bunny Treat Bag by Rebecca Langford is an adorable crocheted pouch to stash all your Easter goodies in! A great bag pattern that can be easily customized to fit any holiday or occasion.
The Lucky Duckling pattern by Claire Garland is the sweetest pattern to knit your very own fuzzy ducklings. This pattern is knit flat with just one seam to close.
Cory the Giant Bunny by Ilaria Caliri is simply the cutest! This big bunny is crocheted in bulky weight yarn and makes the perfect, huggable friend.
The Bunny Got Back Socks by Amy Gunderson are absolutely adorable! Little bunnies are knit across the foot and a cute little cotton tail is added to the back of the ankle.
Like Us

763-391-7700




11262 86th Avenue North




Maple Grove, MN 55369