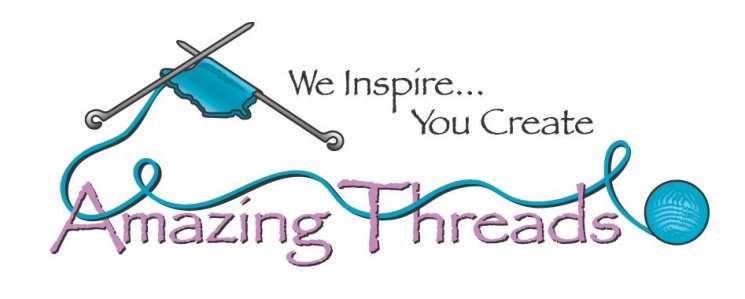 We are so ready for warmer weather and for Spring and Summer temperatures to arrive! Gnomie and his goat friend are ready for the flowers to bloom! Be sure to check them out in our front window next time you stop in!
We had a great Friday Night Stitching Event last week! It was wonderful to see new and returning faces! Our next event is scheduled for May 20th! Be sure to register here or in the classes section below.
Don't forget to make your plans to visit us at Yarnover 2022 on Saturday, April 30th at the Crowne Plaza right here in Plymouth, MN! Head over to the Yarnover website for details & registration for classes and other events. You'll find us in the Marketplace! We will be in the Regency Ballroom ready to see you!
The marketplace is free to the public and will feature indy dyers, fiber farms, and local yarn stores like us! Entrance to the Marketplace is free, but ticket registration is required. All the details can be found at the Knitters' Guild website.
We're excited to be hosting Michele Lee Bernstein at our booth for a book signing! Michele's Brioche Knit Love book is a fabulous book that helps you learn and build brioche knitting skills. We can't wait for you to meet Michele in our booth!
April 30th is also Local Yarn Store (LYS) Day! LYS Day is a day dedicated to celebrating your local yarn store. Designers and other suppliers release unique products and patterns available through your yarn shop that day.

Enjoy a

free gift

with purchase while supplies last!

Make a purchase on LYS Day and select one of four different Malabrigo patterns for FREE!

Additionally, we are excited for several exclusive patterns that will be FREE with purchase of yarn on LYS DAY! These patterns will be made available by multiple designers including Casapinka, Baah Yarn, Jessica Ays!
Don't forget, we have an upcoming restock of Megan's Handspun just in time for LYS Day!

The Rowan Yarns trunk show has arrived and is ready to inspire your upcoming Spring & Summer knits! It will only be on display for a limited time, so be sure to browse the rack next time you stop in!
NEW Books and Magazines are now available for preorder!
Laine Issue 14 is available for preorder with a release date of May 6th. Inspired by summer nights, the 10 knitting patterns explore colorwork, texture, and delicate details.
Another incredible book from Laine Publishing is Traditions Revisited: Modern Estonian Knits featuring patterns from Aleks Byrd. This stunning book features 19 knitting patterns providing an introduction to Estonian knitting, blending traditional and modern knitting styles. A must have! Available for preorder with a release date of May 20th.
Cocoknits notions and accessories have been restocked! Enjoy stitch makers, tape measures, boards, accessory rolls, and more!
Life in the Long Grass' Liminal Threads is now available! This latest publication transports you to Ireland for bit a relaxation and peace. Enjoy nine stunning patterns, beautiful photography, articles, recipes and more!

The Antler Toque by Tin Can Knits was knit using Malabrigo Rios. This free pattern only requires one skein!
The Easy Beanie is a simple hat knit using Sirdar Jewelspun! This exclusive pattern from Amazing Threads is free with purchase of yarn. If ordering online, just add a note at checkout requesting this pattern.

The next Learn to Knit Class starts May 18th.
Here We Gnome Again - Now offered both in-person or virtually!
Join us for the upcoming two-part class series with Sarah Schira of Imagined Landscapes! If you have fallen in love with the cute knitted gnomes like we have, you do not want to miss this event! Here We Gnome Again starts on May 7th. Sarah will be joining the sessions via Zoom and we will have experienced gnome knitters in class with us to assist with any questions.
The next Friday Night Stitching Event is on the calendar! Join us May 20th for a fun night out with friends, food, and prizes! Bring your work-in-progress and enjoy some time with other yarn lovers!
NEW Class has been added! The Intersecting Tee by Rachel Illsey starting May 25th.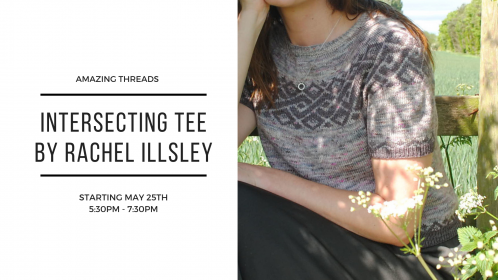 REGISTER FOR CLASSES HERE
Remember we have social knitting every week on Tuesdays, both in the morning and evening. Join us Tuesday mornings from 11:00AM-1:00PM or Tuesday nights from 5:00PM-7:00PM. Free with Knit Club membership!
---

The Stormy Sky Shawl by Ksenia Naidyon is an asymmetrical shawl, knit in fingering weight yarn. Perfect for that one, special skein of yarn!
Cakes Two to Tango by Gwen Kok is a crocheted shawl using DK weight yarn. Best with two color changing skeins of yarn!
Desperately Seeking Shallow SC Crescent by Min G. is a crocheted shawl in fingering weight yarn. Available in two sizes to make your perfect shawl!
The Boneyard Shawl by Stephen West is knit in DK weight yarn! This simple, triangular shawl begins at the top center and increases towards the border.
Like Us

763-391-7700




11262 86th Avenue North




Maple Grove, MN 55369