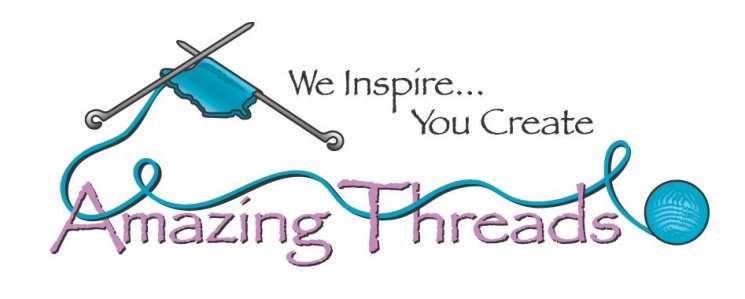 We hope you had a fun and safe 4th of July holiday! What we thought was going to be rain all day turned into a rather lovely afternoon and evening for celebrations!




THIS SATURDAY is the cast-on party for the Sailaway Cardigan! This is the SIXTH annual Olive Knits Annual 4 Day Sweater KAL !


Join Bonnie
on

Saturday, July 9th

for our cast-on party! Those who finish their Amazing Threads Sailaway cardigan by July 31st will receive a GIFT CARD!

Don't forget to register HERE!

If you haven't participated in one of these knit-alongs before, this is the perfect one to try! They are so much fun and are a simple pattern to encourage you to finish the project and be able to wear it as soon as possible! :)


Juniper Moon Damask yarn is a 100% linen yarn that is perfect for warmer weather or light layers!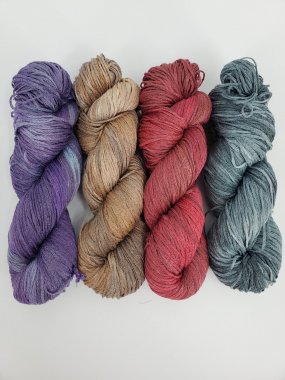 This sport weight yarn has 328 yards per skein and will give your garments beautiful depth and texture. Enjoy a FREE pattern with purchase of yarn! See options below!

If ordering online, be sure to mention the pattern in the note at checkout.
The Mara Lacey Vest or Luisa short sleeved top.
The Suzanne Poncho or Daria Shawl.
The Nadine Pullover and the Winslet Jacket.

Cocoknits Accessories are restocked!



Launching this Friday @ Amazing Threads!

Our very own Suzanne Lek has created these Gold Tip Interchangeable Needle Sets!

I can attest they are extraordinary and well made, and not a glitch at the join. They scream luxurious in the needles themselves and the resulting knit! Each set contains needles sizes 2, 2.5, through US 10.

Stay tuned for the needles and Suzanne's story!





Mindful Blocking Mats have been restocked!



Lykke Interchangeable Needles are back in stock!



Susan has been busy knitting hats to donate to school aged kids in Minneapolis. She is using Malabrigo Rios for a quick, washable knit!
Patterns include: Mount Ambler, Easy Twisted Rib Beanie, and Day Trip Toque.




Be on the lookout for the New Kendal Blanket Sample in the shop as it is hot off the needles!.




Knit in Juniper Moon Cumulus Rainbow. Enjoy the pattern free with Cumulus Purchase.


Stephanie's husband Derek finished his As You Wish Mystery KAL shawl over the weekend! He enjoyed learning new stitches and the fun Princess Bride references throughout the pattern. Knit in Life in the Long Grass Singles.



Don't miss an opportunity to EARN an Amazing Threads GIFT CARD!!!

Get your yarn and join us for the Cast-On party! THIS Saturday, July 9th from 10:00-12:00.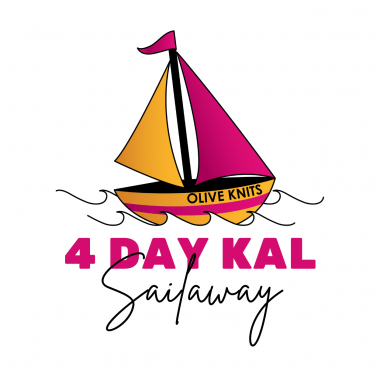 Join us on July 22nd from 5:30-9:00PM for Friday Night Stitching!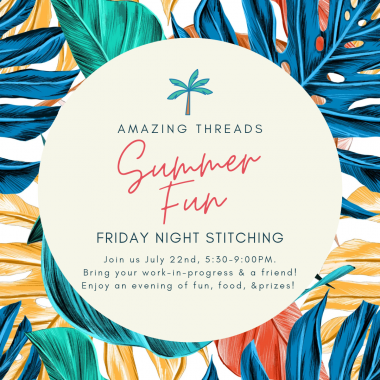 The Sugar Shawl is an easy shawl pattern perfect for summer and early fall! Our sample is going to be knit using Baah La Jolla and Rowan Fine Lace held double.
Summers are busy for everyone - stay tuned as we add more classes to the schedule!
REGISTER FOR CLASSES HERE
Remember we have social knitting every week on Tuesdays, both in the morning and evening. Join us Tuesday mornings from 11:00AM-1:00PM or Tuesday nights from 5:00PM-7:00PM. Free with Knit Club membership!
---

Like Us

763-391-7700




11262 86th Avenue North




Maple Grove, MN 55369