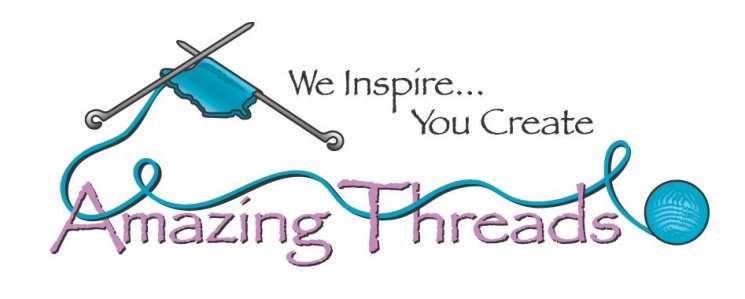 We had a great night this past Friday for our monthly Friday Night Stitching events. There were so many new faces that joined us! It was a pleasuring meeting everyone and getting to share our love of yarn! We had a full house and enjoyed tacos in a bag/taco salad for dinner. Four people won prizes, and everyone got a shopping discount for the evening.
If this event sounds like a fun night out, be sure to register for our next Friday night event on August 26th.
At Friday Night stitching we also had our first person to finish their Amazing Threads Sailaway cardigan as part of the 4 day KAL! Michelle earned her gift card that night! How beautiful is her sweater in Rowan Felted Tweed and Primrose Homestead Sport!

The latest sample in the shop is the Elah cardigan by Isabell Kraemer in preparation for an upcoming class. This worsted weight cardigan was knit in stash yarn bought years ago from Amazing Threads.
Join Susan for class on

September 11th with an optional session on Thursday, August 25th to get help choosing yarn and discussing fit.

Alex has been busy working on her Calliope sweater! Remember, this fall wraps up our Calliope shop sweater knitting - our sample is knit in La Bien Aimee Merino DK. We started this tradition in 2020 with the City Limits sweater and can't wait to see the Calliopes this fall!
Stephanie is working on her "snow and ice" version of the Painting Honeycombs shawl by Stephen West. Using White Gum Wool 4ply for the edging and a combination of Pascuali Balayage and Blue Sky Woolstok Light for the blues.


Last chance to register!!!
The Sugar Shawl is an easy shawl pattern perfect for summer and early fall! The Sugar Shawl is an asymmetric shawl featuring both a lace weight held double and fingering weight yarn OR use 2 fingering weight yarns. The Sugar Shawl combines garter stitch with slip stitch bands, adding texture and interest. Additionally, it's lightweight which makes it a great option for transitional weather or a slight breeze in the air. You can brighten any outfit with 2 colors. Our sample is knit using Baah La Jolla and Rowan Fine Lace held double. Class starts July 31st! Only a few spots remaining!
Join us in August for Friday Night Stitching celebrating ONE YEAR of Friday Night fun! Dinner is provided as well as shopping discount and opportunities to win prizes!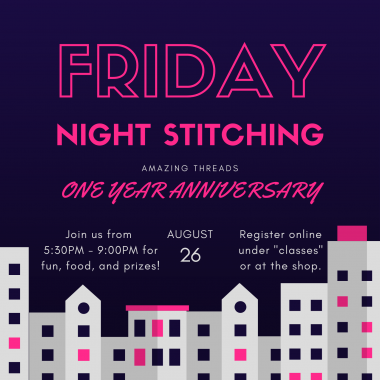 New Works-In-Progress sessions have been added for August 31st and September 28th!
Elah by Isabell Kramer is a top down sweater knit in worsted weight. Class starts September 11th with an optional session on Thursday, August 25th to get help choosing yarn and discussing fit.
Susan is offering another Socks on Two Circular Needles Class starting September 11th!
Easy V by Caitlin Hunter is a beautiful, relaxed fit sweater in worsted weight! This intermediate level sweater consists of short rows and fair isle colorwork. Starting September 15th.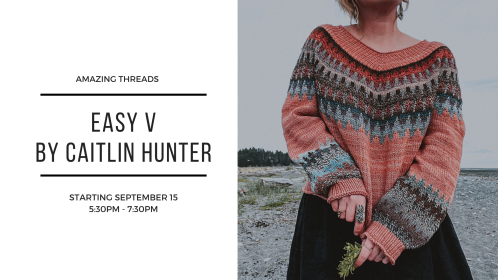 REGISTER FOR CLASSES HERE
Remember we have social knitting every week on Tuesdays, both in the morning and evening. Join us Tuesday mornings from 11:00AM-1:00PM or Tuesday nights from 5:00PM-7:00PM. Free with Knit Club membership!
---

Like Us

763-391-7700




11262 86th Avenue North




Maple Grove, MN 55369