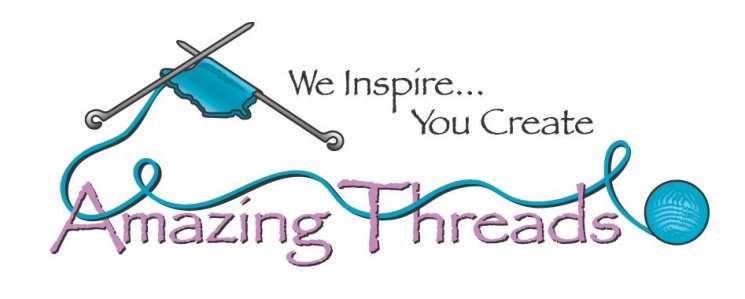 We're looking at another beautiful week here in the Twin Cities area! What a lovely time to enjoy being outside, in the yard or perhaps at the lake. Hopefully with a knit or crochet project in hand!


Don't forget that during the month of August, if you send us a picture of your favorite Amazing Threads finished project and the yarn you used via email at info@amazing-threads.com, your submissions will be entered in to win a $50 gift card!

Thank you to those that have already begun to send in your entries!
The winner will be drawn on September 1st!


Our staff have been excited over all the new pattern releases that have been coming out!
We thought we'd share a couple that have us excited to knit!

-------------------------------------------------

Sarah Schira of Imagined Landscapes just announced a new Mystery Gnome! This pattern is a Choose Your Gnome Adventure where you get to choose features for your gnome as you go! Choose various design features, your yarn weight, and size of gnome!



Pictured are a few of the gnomes that Kris, Bonnie, and Pam have knit from her previous patterns. How fun!




Melanie Berg released a new striped cardigan pattern called the Desperate Housewife Cardigan! :) We were so excited for this pattern, we decided to host a knit along! Stephanie already picked out her yarn - Rowan Felted Tweed in a muted rainbow set of colors.
Join her for the first of three sessions of a KAL starting August 28th!

Our shipment of Primrose Homestead Sport and Homestead Worsted yarns arrived on Monday! We are so excited for these gorgeous colorways! Now is the perfect time to get a few of these beauties for your next project!
Salt & Timber from Laine Publishing is available for PREORDER! This collection by Lindsay Fowler is inspired by the Pacific Northwestern Coast. It features 15 designs including socks, hats, sweaters, mitts, and a blanket! Be sure to reserve your copy!
The Fall 2022 Issue of Laine is now available for PREORDER! Choose from two covers: full color or limited edition black & white. This edition contains 12 knitting patterns including sweaters, socks, shawls, and more. Reserve your copy today!
Featured Yarns On Sale this week:

Choose the Cable Hat (2 skeins), Ribbed Beanie (1 skein), Blanket (11-15 skeins), Family of Beanies (1 skein), Voltafiore
lacy scarf or Steph Scarf ( 3 skeins each).
Ordering online? Let us know which pattern you want in the notes section of your order
Big Bad Wool Weepaca, Big Bad Wool Yeti & Plymouth Forget Me Knot are

ALL 30% OFF

Maxine finished her second Intersecting Tee, this time with long sleeves! She knit it using Life in the Long Grass Singles.
Susan has been busy working on the Vuolle Sweater knit in Corrie Worsted. This gorgeous pattern is found in the Contrasts book from Laine Publishing. We have a few more copies of this incredible book on the way - stay tuned!
Stephanie is busy working on the shop sample for the SSP (Slip Stitch Party) Shawl by Isabell Kraemer! Join her for the class starting in October!

Join us August 26 for Friday Night Stitching celebrating ONE YEAR of Friday Night fun! Dinner is provided as well as shopping discount and opportunities to win prizes!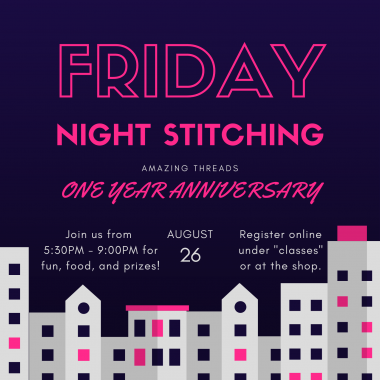 A new knit-along has been added to the schedule! Join Stephanie for the Desperate Housewife KAL, starting August 28th for three monthly gatherings!
New Works-In-Progress sessions have been added for August 31st and September 28th!
Only ONE spot remains for Socks on Two Circular Needles Class starting September 11th!
A new Men's Sweater class has been added. Join Suzanne for your choice of one of three sweaters to knit starting September 29th! Options include Single Malt, In Stillness 2, and MILLE cardigan for men.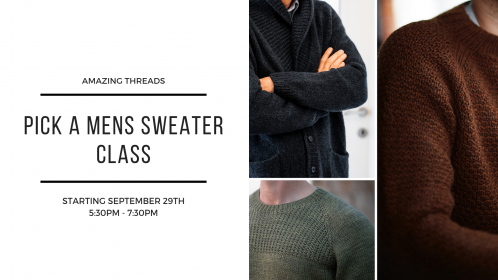 Several Learn to Knit classes have been added to the calendar, one starting September 14th and another October 26th.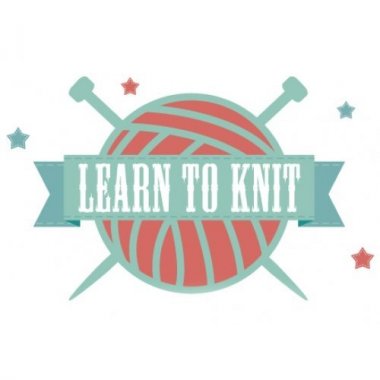 Easy V by Caitlin Hunter is a beautiful, relaxed fit sweater in worsted weight! This intermediate level sweater consists of short rows and fair isle colorwork. Starting September 15th.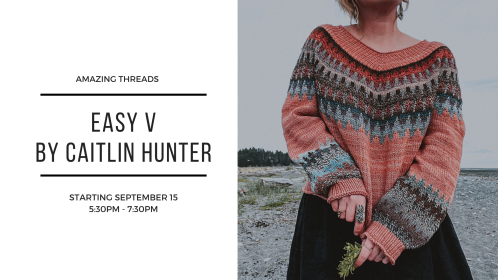 Join Stephanie starting October 8th for the SSP (Slip Stitch Party) shawl. Our sample will be knit in Pascuali Balayage.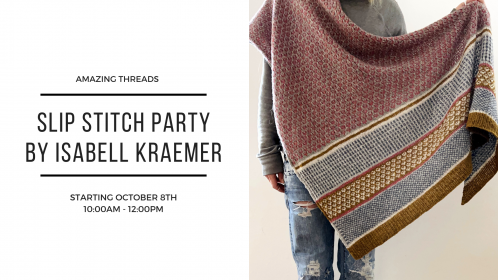 REGISTER FOR CLASSES HERE
Remember we have social knitting every week on Tuesdays, both in the morning and evening. Join us Tuesday mornings from 11:00AM-1:00PM or Tuesday nights from 5:00PM-7:00PM. Free with Knit Club membership!
---

Like Us

763-391-7700




11262 86th Avenue North




Maple Grove, MN 55369