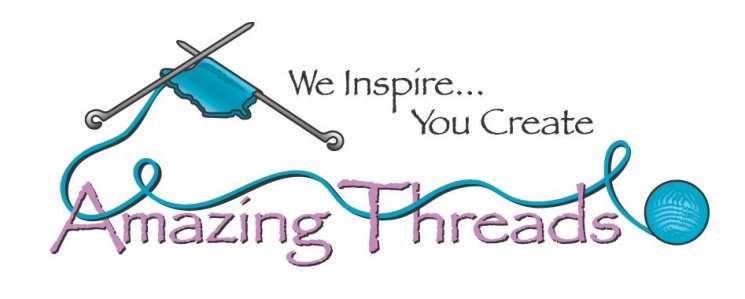 Hello friends! We hope things are falling back into a routine for everyone now that school is back in session. The cooler weather over this weekend has us all excited to start our Fall/Winter knit and crochet projects! Did somebody say sweater weather?
It's right around the corner!


We have so many fabulous events coming up in the next few weeks and months.

It all starts this weekend with our Sample Sale! Join us from September 16-18th! This is your opportunity to take home some of the wonderful samples we have had in the shop.
Mark your Calendars for next Saturday! On Saturday, September 24th, Amazing Threads is celebrating our 20th anniversary! We will have treats, prizes, and discounts to celebrate!
We are giving away a "Hug Me Bag" and lots of other fabulous door prizes!




We are so grateful for every customer who has shared our passion for knit and crochet. Can't wait to see you there!
Have you registered for our event with Melanie Berg yet? We are very excited to host a zoom event with Melanie Berg on October 1st! She is a fabulous human with a love of knitting and knit design! We have hosted zoom events with her in the past and she is a joy to chat with and learn from!
Don't miss out on this wonderful opportunity to learn about her design process and walk through her upcoming sweater pattern release - Morning Glow! Get inspired and sign up for the Pick Your Melanie Berg Sweater Knit-Along starting October 9th!
SAVE THE DATE! Have you registered for the Fall Retreat yet? The registrations are coming in for our Fall Retreat which will be local to Maple Grove! A few of the guests and featured items include Kelsey from Primrose Yarn Company (maker of Homestead Sport and Worsted), Blue Sky Fibers, and SquareKnot Handmade Project Bags!
Our Retreat is being held at the Four Seasons of Rush Creek Club House.



We have a large ballroom, entry fireplace room and the large outdoor patio. All the food is being catered in for us. More details to follow.
Register next time you're at the shop or on our website! Invite your friends, grab your projects, and spend a fun weekend with fellow yarn lovers!

We have exciting new things on the way, but we can't share everything quite yet. For now, a teaser picture several goodies including the exclusive Amazing Threads Anniversary Color will have to do. ;)




The first Rowan launch for this season is focused on Kidsilk Haze. This launch is BIG as they added 39 new colors and they are beautiful and there is great pattern support!




Susan's Boho Style Mosaic Shawl is one of the latest samples in the shop! This pattern by Irene Lin is a stunning pattern in which you only work one color at a time. Our sample is knit in Blue Sky Fibers Woolstok Worsted.
Since a lot of new things are coming in the near future, we thought we'd share a few favorites that we still have on hand and ready for your to take them home (or have them shipped to you) ;) Some of these are hard to find or sold out in other places.


GGmadeit's exclusive colorway "oranGGe" from Urth Yarns in the self-striping sock kit.

Traditions Revisited from Laine Publishing. This beautiful book features Estonian knitting.

"Worsted" by Aimee Gille of La Bien Aimee from Laine Publishing. A pattern book filled with beautiful worsted knits.

Coco Knits accessories and stitch markers including the oh-so fun Flight of Stitch Markers.


La Bien Aimee Merino DK. We still have the very popular Yellow Brick Road colorway!

Circular Needle Cases from Della Q. An accordion style case for organizing circular needles.

Blue Rabbit House Project Bags. Each bag features a printed original illustration by The Blue Rabbit House.
The ever famous Original Barber Cord by The Knitting Barber. Perfect for holding live stitches while knitting or when trying on your garment in progress!

The Recollect Cowl is a new sample you might have seen in our shop recently. Alternating garter and stockinette stitch chevrons create an interesting texture and a squishy, warm fabric. Knit in Farmers Daughter Fibers Recollect.
Bonnie has been busy working on her Bluestone Cardi knit in Primrose Homestead Sport and Primrose Roan Sport. Seeing the Primrose makes us even more excited for Primrose Yarn Company to join us at Retreat this year!

Only ONE spot remains! Learn to Crochet starts September 17th!


Already know how to crochet? The Paradise Crochet Hat class begins September 17th.




September's Works-In-Progress session is scheduled for September 28th!





Several Learn to Knit classes have been added to the calendar, one starting September 14th and another October 26th.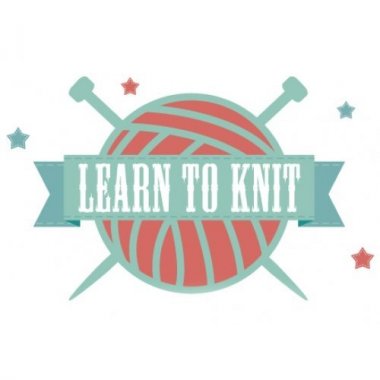 Easy V by Caitlin Hunter is a beautiful, relaxed fit sweater in worsted weight! This intermediate level sweater consists of short rows and fairsle colorwork.
Starting September 15th.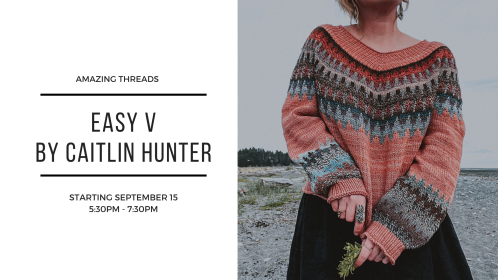 September's Friday Night Stitching Event will be held on September 30th! Invite a friend and join us for a night of fun!




The Crochet Meadow Pumpkin is a single session class on October 8th.




Join Stephanie starting October 8th for the SSP (Slip Stitch Party) shawl. Our sample will be knit in Pascuali Balayage.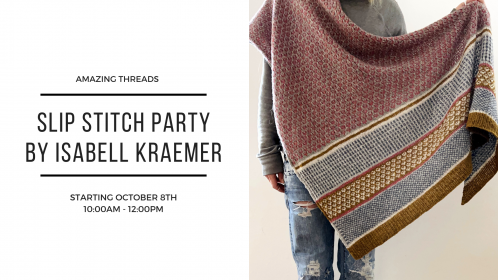 Pick a Melanie Berg Sweater starts October 9th! Join us the weekend before for the Melanie Berg Zoom event and get to learn about her design process and patterns and roll right into one of her sweaters for this three session KAL!




The Paradise Crochet Mittens class begins October 15th.




REGISTER FOR CLASSES HERE


Remember we have social knitting every week on Tuesdays, both in the morning and evening. Join us Tuesday mornings from 11:00AM-1:00PM or Tuesday nights from 5:00PM-7:00PM. Free with Knit Club membership!
---

Like Us

763-391-7700




11262 86th Avenue North




Maple Grove, MN 55369