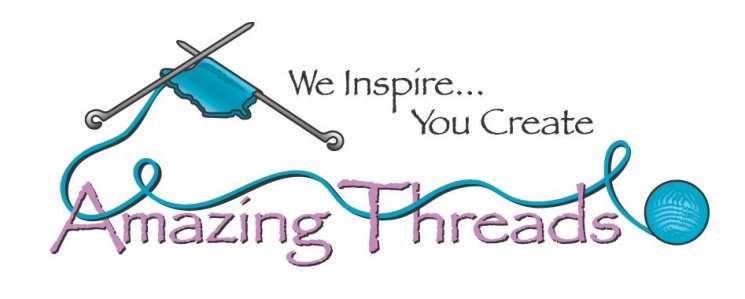 We had such an amazing event on Saturday celebrating our 20th Anniversary! Thank you to everyone that came out to help us celebrate! And thank you to everyone who shopped with us for our online sales event on Monday!




We have loved seeing the wonderful goodies you found and brought home!
Tina found the perfect colors for her next project!




Congratulations to all of the winners as well! We had some fabulous prizes donated by our amazing vendors! Angie picked up her special pair of Addi circulars on Monday!



Looking for a reason to start working with all the yarn and goodies you got at our Anniversary event? Join us this Friday, September 30th for our Friday Night Stitching. Enjoy food, prizes, and fun with fellow yarn lovers! Hope to see you there!




With our anniversary event over, it is now time to focus on our next big event - Fall Retreat!

Don't forget to register for our local Fall Retreat! It will be held at the Four Seasons of Rush Creek Club House. Register next time you're at the shop or on our website! Invite your friends, grab your projects, and spend a fun weekend with fellow yarn lovers!


A few of the guests and featured items include:
Kelsey from Primrose Yarn Company (maker of Homestead Sport and Worsted and new to us Roan Sport will debut), Blue Sky Fibers, and SquareKnot Handmade Project Bags!
Also: Aimee of La Bien Aimee will zoom with us on Saturday morning! :D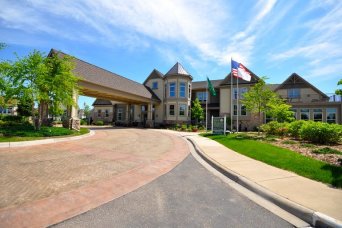 All of our limited edition Anniversary celebration items are now available on our website!
Click HERE for anniversary items.


"Lakeside Dreams" by Six and Seven Fibers is one of our exclusive colorways created for the event. Kits are available to make the Indiana Sunset Shawl!
We also have "It's My Party" in Baah La Jolla to celebrate our milestone!
The Harvest Festival Shawl takes three skeins of Baah La Jolla.
Enjoy the pattern free with purchase of yarn!
Blue Sky Fibers gave us permission for an early release of the Persimmon Wrap in honor of our 20th Anniversary Celebration!
We were able to select our own color combination for our kits!
We restocked our handmade pearly stitch markers! Multiple colors and combinations available!
All 20th Anniversary exclusive items can be found under one listing on our website.
Search "20th Anniversary" or click HERE.

Susan's Socks on Two Circulars Class is going great! Look at all the progress made on these beautiful socks! So much fun!




Heather has been making progress on her Easy V in Malabrigo Rios. We are all loving her color choices!
This is a great example from our customer Rebecca on how to map your colors. This helps to visualize and plan your colorwork or what order to put your colors in.
This Easy V sweater is going to look wonderful!




Kris finished her Richmond Hill Sweater knit in Blue Sky Fiber Woolstok Light. Stunning colorwork on the sleeves!



September's Works-In-Progress session is scheduled for September 28th!
September's Friday Night Stitching Event will be held on September 30th! Invite a friend and join us for a night of fun!
The Crochet Meadow Pumpkin is a single session class on October 8th. Join us for a fun, single session class!
Join Stephanie starting October 8th for the SSP (Slip Stitch Party) shawl. Our sample will be knit in Pascuali Balayage.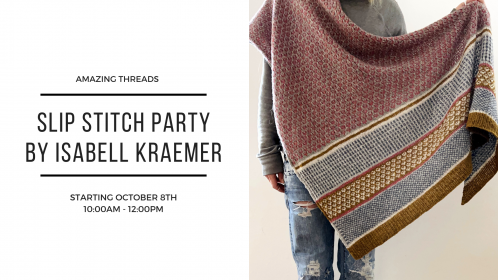 Pick a Melanie Berg Sweater starts October 9th! Pick any of her sweater patterns and join us for this three session KAL!
The Paradise Crochet Hat class begins October 15th.
The Paradise Crochet Mittens class also begins October 15th.
Registration is open for the next round of Learn to Knit classes begining October 26th.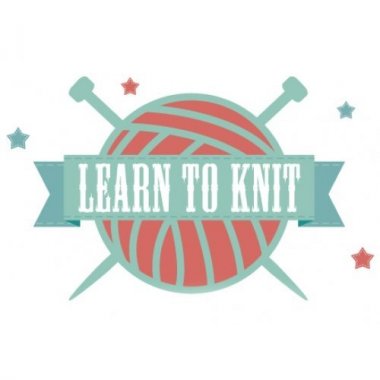 REGISTER FOR CLASSES HERE
Remember we have social knitting every week on Tuesdays, both in the morning and evening. Join us Tuesday mornings from 11:00AM-1:00PM or Tuesday nights from 5:00PM-7:00PM. Free with Knit Club membership!
---

Like Us

763-391-7700




11262 86th Avenue North




Maple Grove, MN 55369