We hope you all had a wonderful weekend and start to your week. We are enjoying being outside with the beautiful Fall weather we have been having!


There have been some great new pattern releases and knit-alongs that have just started! We wanted to share some yarn ideas that would be perfect for your next project!
Andrea Mowry just released the Big Cozy Cardi pattern which knits the body using sport weight and an oversized collar knit in a soft suri. We recommend Amazing Threads Simply Sport for the body and then knitting the collar in Farmer's Daughter Fibers Oh Dang!
Stephen West's latest Mystery Knit Along just started this past week, so there is still time to cast on your project! Twists & Turns is knit using three colors in fingering weight. With the recent restock of La Bien Aimee Super Sock, it is the perfect time to pick out your color combination!
Don't miss out on our local Fall Retreat! There are only a few days left to register!
We've had so much fun in years past!
Registration Closes 10/15/22 - This Saturday
This year's retreat is here in Maple Grove at the Four Seasons of Rush Creek Club House. Register next time you're at the shop or on our website! Invite your friends, grab your projects, and spend a fun weekend with fellow yarn lovers!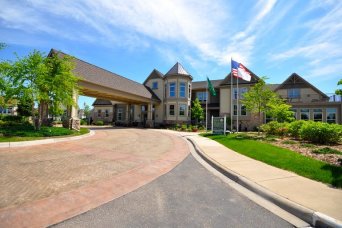 At Retreat:
Kelsey from Primrose Yarn Company, maker of Homestead Sport and Worsted, will be there and will be bringing a new to us yarn - Roan Sport. Bonnie has been busy working on her Bluestone Cardi in Primrose Roan Sport and Homestead Sport.
Retreat attendees will get to see and shop our debut of this yarn first!
Other Retreat guests and items include Blue Sky Fibers, SquareKnot Handmade Project Bags, Aimee of La Bien Aimee on Zoom Saturday morning, and Megan will join us Sunday morning to demonstrate all types of spinning options.