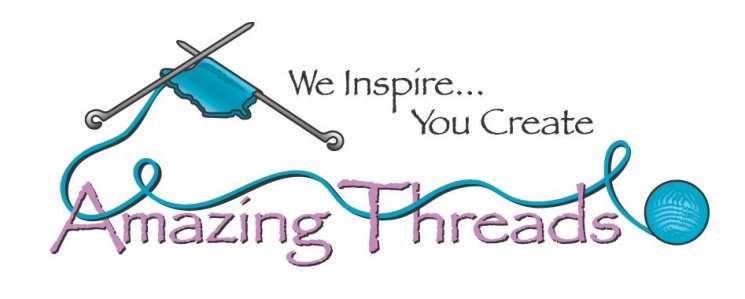 We had a wonderful weekend at retreat with friends, new and old! It was a lovely venue, great food, and so much fun! Thank you to all that attended!
We had a few special guests join us including Michelle from Squareknot Handmade bags and Kelsey from Primrose Fibers. Our attendees were able to shop the bags available and order custom bags with their own fabric combinations! We also had our Amazing Threads debut of the Roan line from Primrose. Our attendees had expert help in picking out the perfect color combinations for their next projects!
Megan from BriocheandBrews not only brought a new supply of unique, handspun yarn, but she also gave a spinning demonstration and gave a presentation on different fibers. These beauties are now available in the shop! Be sure to take a peek next time you stop in!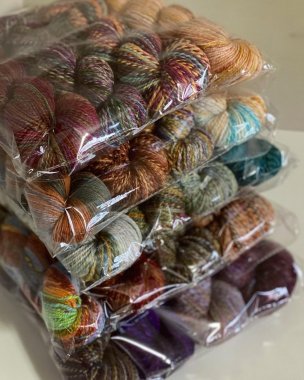 It was another great year of Fall Retreat! We can't wait to see your finished projects from this weekend and the start of your next incredible projects! If you took photos be sure to tag us on social media! #ATretreat22 and #ATretreat2022
As we head into the cold weather season
- Help us Give Back -
Amazing Threads is collecting clean and gently used coats for elementary and middle school students. We have a network of volunteers who will distribute all donations.
We will also take adult coats for the homeless.
Winter will arrive soon! Your generosity is appreciated. THANK YOU!

We have several new samples knit up in a new yarn called Gusto Wool Echoes! This self-striping, fingering weight yarn comes in little bundles perfect for your next project on the go! Pictured below are the Chevron Scarf, Staple Hat, and Anica shawl.
Bonnie's finished Bluestone Cardi is absolutely stunning! Knit in Primrose Homestead Sport and one of our newest yarns, Primrose Roan Sport! Roan is an amazing blend of superwash and non-superwash wool. It is absolutely perfect for colorwork and lovely on its own! Primrose Homestead Sport has also been restocked! Making it the perfect time to plan your next sweater or other colorwork project!
Also debuting this past weekend is the new Blue Sky Fibers Woolstok Tweed! This four-ply Aran weight is ideal for a variety of garments and accessories. These earthy colors with neutral flecks of Donegal tweed are available in generous 100g hank! We have 14 colorways available to choose from.

Our retreat sweater selected last year was the Calliope sweater! It was so fun to see those that finished their project and were able to wear them at retreat! They look amazing!
We were also able to get a picture on Saturday at retreat of every one who was wearing something they had made! What a beautiful celebration of handmade items - knit & crochet! Everyone looks great!

There are still openings for the second offering of the Two Rivers Mitts class on November 6th starting at 2:00pm!
November's Friday Night Stitching event is on the calendar for 11/18! Bring a friend and join us for a fun evening!
Join us November 30th starting at 5:30PM for the Holiday Doodle Hat class! Get ready for the holiday season with this fun and creative pattern!
Works-In-Progress classes for November (11/9) and December (12/15) have been added to the calendar. This is a great opportunity to get a little extra help if you're stuck on some holiday gifts in-progress.
Stay tuned as more classes are added!
REGISTER FOR CLASSES HERE
---

Like Us

763-391-7700




11262 86th Avenue North




Maple Grove, MN 55369