Skip Navigation
Website Accessibility
Amazing Threads - So Many Classes and Project Ideas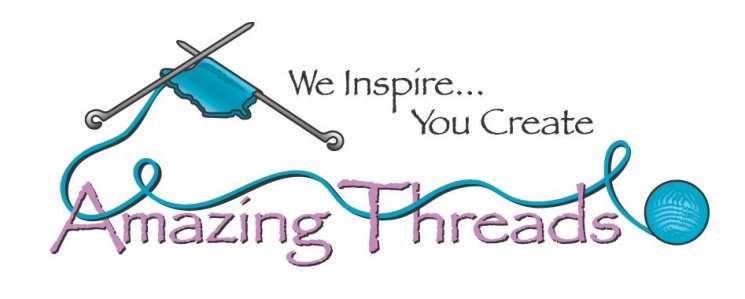 We love our community of knitters, crocheters, and fellow yarn lovers! It is always so much fun to watch people learn to knit and crochet, grow their confidence and skills, and celebrate their progress and projects!


We offer lots of different opportunities to gather, socialize, and learn. We have classes ranging from learn to knit and crochet to more advanced classes and knit-alongs including sweaters, colorwork and more. We have open knit/crochet every Tuesday both in the morning and evening. We also have monthly Friday Night Stitching events where you can have dinner, socialize, and work on your project. We hope you'll join us at one of our next classes or events!




One of our current knit-alongs is the Drawing Sweater. Susan shared her progress on this beautiful piece! She is using Primrose Roan and La Bien Aimee Mohair.

--------

Bonnie shared with us the importance of using color catchers when soaking your finished projects! When using deep colors or multiple colors you don't want to bleed, it is important to use color catchers when soaking so they absorb any excess dye that might come out in the water.






In the first picture you can see the handknit soaking along with the color catcher sheets in the water. In the second picture you can the color catchers removed after soaking - notice the blue tint to them. You can find color catchers in the laundry aisle of your store.



----------------

Save the Date! Join us "Under the Sea" on April 13th-16th for the 2023 Minnesota Yarn Shop Hop! Help us celebrate our love of yarn and support our local food shelves! Check out the Shop Hop webpage for information on participants, maps, and the event passport!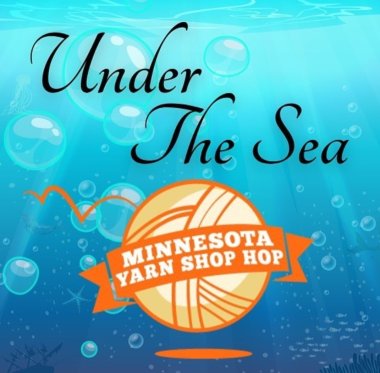 --------
Just a reminder that
our Farewell Shibui sale is still going on. As Shibui is closing, we are offering 30% off various yarns including Haven, Pebble, Cima, and Tweed Silk.

Now available for PREORDER! Neons & Neutrals: A Knitwear Collection Curated by Aimee Gille of La Bien Aimee is a

sequel to her first book, Worsted. This collection includes 16 patterns from 16 talented designers. It is an eclectic collection of patterns that invites crafters to combine yarn in new and unexpected ways across brands and bases. The designs showcase modern knitting at its best, using a variety of techniques and unique and unexpected color combinations.




This wonderful book is published on March 3rd with pattern previews released on February 9th. Reserve your copy today!

-----

Georgia Farrell just released a new pattern: the Fifteen Hundred Mini Shawl inspired by one of her favorite buildings in Guadalajara, Mexico!




Using two balls of Rowan Alpaca Soft DK, this textured knit will work up quickly!
Rowen Alpaca Soft DK has been a best seller in the Rowan DK line of yarns. It is an incredible knit which leads to a fabulous accessory or garment.



Bonnie's goal for 2023 is to finish some works-in-progress! The first on her list is the Minaret Sweater knit in Farmer's Daughter Fibers Foxy Lady. This short sleeve sweater will be perfect for Spring!
Bobbi has been busy making beautiful red hats! The Bankhead Hat knit in Malabrigo Rios is a great hat with a touch of detail to make it special. The pattern is inspired by a ghost town. Check out the ravelry page for more detail on the town and inspiration behind the pattern. Malabrigo Rios is the best yarn for knitting hats and mittens as well as sweaters and more. All of Bobbi's grandchildren own many! :)

Keep an eye out for a new hat design by Bobbi next week!
Susan is busy working on her Pressed Flowers shawl in La Bien Aimee Merino DK. We love the colors she picked out!

NEW
Learn to Knit

series have been added to the calendar! Register for sessions beginning February 18th or March 18th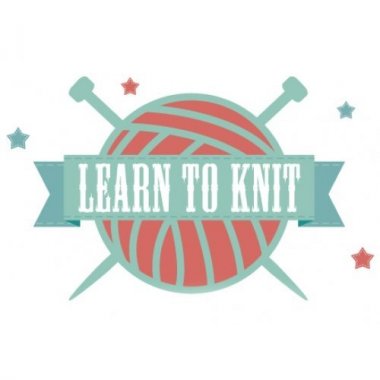 The next Works in Progress

session is scheduled for February 9th! Let us help you get un-stuck on your project!




Have you taken our learn to crochet class? Are you ready to crochet some more? Register for the Learn to Crochet Your Next Project class! Two class series will be offered both starting on February 5th.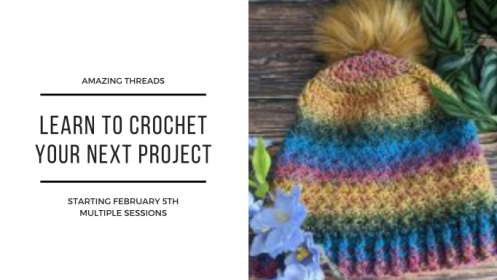 Learn to make the
World's Simplest Mitten
with Sandy starting February 11th.
February's Friday Night Stitching will be held on February 17th! Hope to see you there for a fun night of food, prizes, and fun!




Did you finish the Learn to Knit Class? Join the
Learn to Knit Your Next Project
class starting in March. Pick your next knitting project and work on it in class with an instructor! It's a great way to continue building that knitting confidence!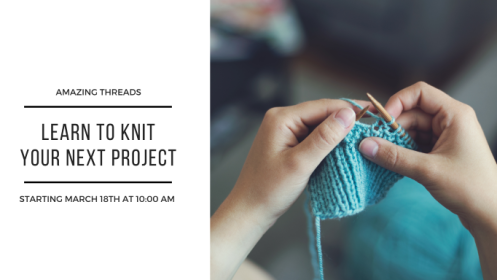 REGISTER FOR CLASSES HERE
W
e have social knitting every week on Tuesdays, both in the morning and evening. Join us Tuesday mornings from 11:00AM-1:00PM or Tuesday nights from 5:00PM-7:00PM. Free with Knit Club membership!
---

Like Us

763-391-7700




11262 86th Avenue North




Maple Grove, MN 55369