Skip Navigation
Website Accessibility
Amazing Threads Restock of Baby Yarn and Customer Finished Projects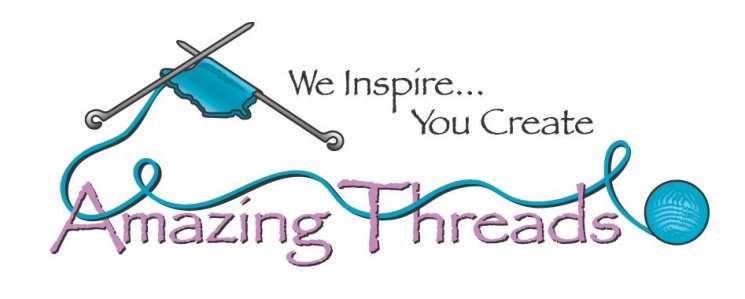 We're approaching the end of January and it is incredible to think we're almost done with the first month of 2023! Where has the time gone!? We hope you have found a good balance between everything on your to-do list and time for yourself, including time to have some fun with yarn!

Maybe this year for you is about learning a new skill or hobby, or practicing something you want to improve on. Our Learn to Knit and Learn to Crochet classes are a great place to start! Be sure to check the class calendar throughout the year for lots of opportunities to learn and improve on your knit and crochet skills!




Our most recent Learn to Crochet Classes just finished up and look at these fabulous dish cloths and scrubbies they made! Great work!

----------

Our staff tends to find a favorite pattern that slowly everyone ends up having one on their needles. :) The Drawing Sweater is the current fabulous pattern being cast-on. Cyndi has made incredible progress on her sweater in La Bien Aimee Merino DK.



----------------------

Save the Date! Join us "Under the Sea" on April 13th-16th for the 2023 Minnesota Yarn Shop Hop! Help us celebrate our love of yarn and support our local food shelves! Check out the Shop Hop webpage for information on participants, maps, and the event passport!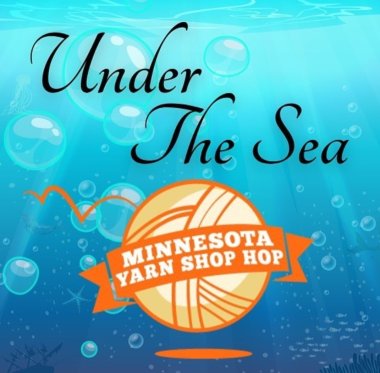 --------
Just a reminder that
our Farewell Shibui sale is still going on. As Shibui is closing, we are offering 30% off various yarns including Haven, Pebble, Cima, and Tweed Silk.

Both Sirdar Rainbow Drops and Plymouth Soft Serve baby yarns have been restocked! These yarns are both great for baby garments, accessories, and blankets! Also easy for new parents to clean and care for as they are machine washable.
Sirdar Country Classic has also been restocked! This is a great DK weight yarn available in a variety of solid colors! It is a wool/acrylic blend making it durable and great for a variety of projects.

We're so excited to be able to fill this week's WIPs and FOs section with our customer's projects! We love celebrating your hard work! Send us a photo, tag us on social media, or bring it in to the shop! We would love to celebrate with you!
------------

Ann finished this lovely crocheted blanket in Plymouth Superwash DK! This came together beautifully! Great work!
Amy finished her first sweater! Her Fadeout Cardigan was knit in Rowan Felted Tweed. She did a great job!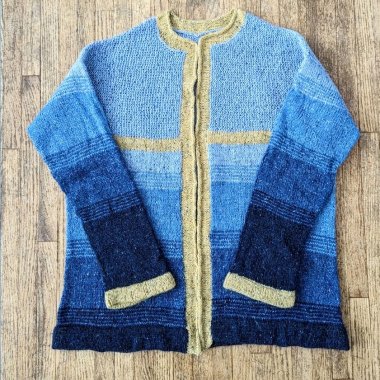 Kat was busy working on a pair of socks using Urth Yarns Self-Striping Sock Kits. Look at the little cable detail going up the side! These kits are perfect for a variety of sock patterns and the two cakes make it easy to get a matching, striped pair!



NEW
Learn to Knit

series have been added to the calendar! Register for sessions beginning February 18th or March 18th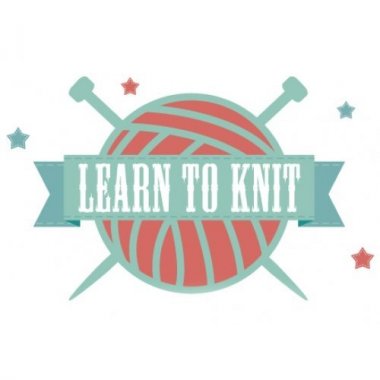 The next
Works in Progress
session is scheduled for February 9th! Let us help you get un-stuck on your project!
Have you taken our learn to crochet class? Are you ready to crochet some more? Register for the Learn to Crochet Your Next Project class! Two class series will be offered both starting on February 5th.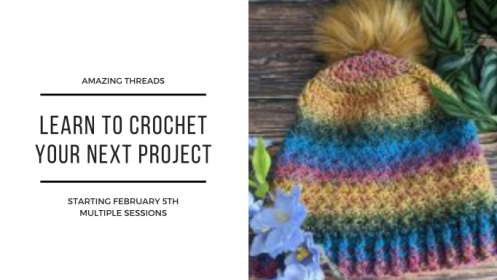 Learn to make the
World's Simplest Mitten
with Sandy starting February 11th.
February's Friday Night Stitching will be held on February 17th! Hope to see you there for a fun night of food, prizes, and fun!




Did you finish the Learn to Knit Class? Join the
Learn to Knit Your Next Project
class starting in March. Pick your next knitting project and work on it in class with an instructor! It's a great way to continue building that knitting confidence!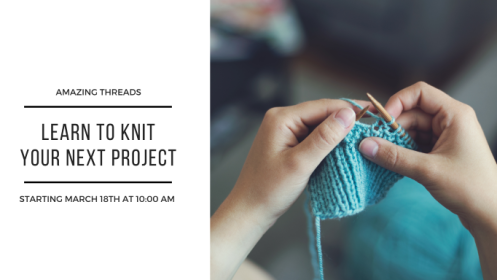 REGISTER FOR CLASSES HERE
W
e have social knitting every week on Tuesdays, both in the morning and evening. Join us Tuesday mornings from 11:00AM-1:00PM or Tuesday nights from 5:00PM-7:00PM. Free with Knit Club membership!
---

The Valentine's Gnomes Set is just too cute of a crochet project! The pattern is written for Aran weight yarn, but pick a yarn and adjust your hook size to make whatever size gnome you'd like. There are some great color options in Plymouth Chunky Merino Superwash.
The Eyelet Cowl from Purl Soho is a beautiful laceweight cowl with some simple detailing and a solid inner color. This piece is very striking when worn! Shibui Tweed Silk Cloud would be lovely and it is currently 30% off!


The Mini Heart Basket is a cute project just in time for Valentines Day! The pattern calls for holding three strands of worsted/aran weight yarn together, but using one strand of Plymouth Encore Mega would be a great option for a Super Bulky weight yarn
The Tiny Pompom Hat is a great hat pattern with a little added touch on top! This lovely ribbed hat would be perfect for anyone you're knitting for. Blue Sky Fibers Woolstok Worsted or Malabrigo Rios would be great options for this hat!
Like Us

763-391-7700




11262 86th Avenue North




Maple Grove, MN 55369