Skip Navigation
Website Accessibility
Amazing Threads Finished Projects and Valentines Day Yarn Event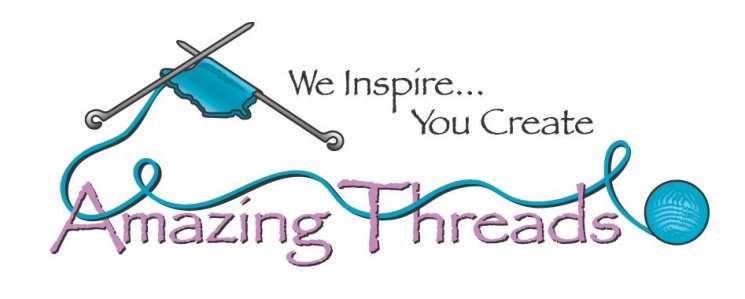 We hope you had some fun and treated yourself this Valentine's Day! Whether that is with flowers, chocolates, dinner, or yarn, we hope you had a wonderful day!




Sale on yarn is 2/14/23 ONLY! Enjoy the discount both online with code 36T36 and in-person at the shop. All sale yarn is final sale.


If you're looking to celebrate a little later this week, or would just like some time with your yarn-loving friends, be sure to register to join us this Friday for February's Friday Night Stitching Event! We will be enjoying a baked potato bar with all of the fixings, a shopping discount, prizes, and a whole lot of fun! Bring a friend and your works-in-progress!


--------------------
Save the Date! Join us "Under the Sea" on April 13th-16th for the 2023 Minnesota Yarn Shop Hop! Help us celebrate our love of yarn and support our local food shelves! Check out the Shop Hop webpage for information on participants, maps, and the event passport!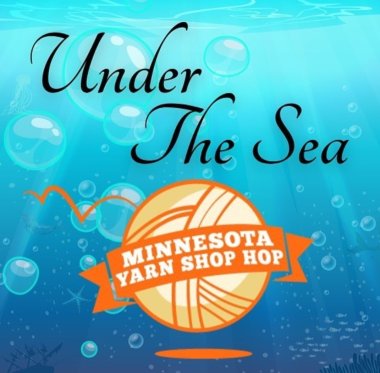 --------
Just a reminder that
our Farewell Shibui sale is still going on while supplies last. As Shibui is closing, we are offering 30% off various yarns including Haven, Pebble, Cima, and Tweed Silk. The orders have been coming in, so be sure to grab your favorites while you still can!



Who doesn't love a good project bag!? We have many favorites and love how a variety of options lets everyone's individual style shine! We wanted to highlight a few of our staff's favorites as well as what we have currently in stock!
------------

Susan's favorite project bags from the store both have a lovely floral motif! Her Atenti bag and Binkwaffle project bag could almost be a set!


Cyndi's project bags also include a lovely Atenti bag in the background and the ever-so-sweet Blue Rabbit House project bag! Nikki the hedgehog has plenty of other animal friends looking for a yarn-loving home!
We also have a few other types of project bags available from DarnYarnMN and Muud!
Our newest sample in the shop is the Fifteen Hundred Mini Shawl by Georgia Farrell knit using Rowan Alpaca Soft DK! This is a quick knit with only a few skeins needed! Georgia's knitting patterns are all inspired by architecture and the stitch pattern and detail in this accessory are lovely!




We have lots of color options to choose from! Grab a few skeins today during the Valentine's sale at 20% off in store or online using code 36T36!



Maren finished her stunning Drawing Sweater as part of the knit-along! She knit it using Primrose Roan and Rowan Kidsilk Haze! It is simply beautiful and we can't wait to see it worn!
How cute is this kid's sweater knit by our customer Martha using Sirdar Country Classic! We love the sheep details at the bottom of the sweater!

NEW
Learn to Knit

series have been added to the calendar! Register for sessions beginning February 18th or March 18th.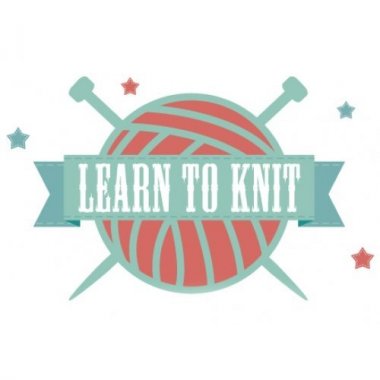 February's Friday Night Stitching will be held on February 17th!
Join us for a baked potato bar and a whole lot of laughter! Hope to see you there for a fun night of food, prizes, and fun!




Join Suzanne for the stunning Maple Vest class starting March 15th. Knit this beautiful garment in sport weight or fingering & lace held together.




Did you finish the Learn to Knit Class? Join the
Learn to Knit Your Next Project
class starting March 18th. Pick your next knitting project and work on it in class with an instructor! It's a great way to continue building that knitting confidence!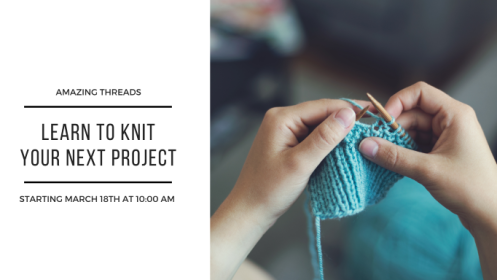 The next Works in Progress session is scheduled for March 29! Let us help you get
un-stuck on your project!


REGISTER FOR CLASSES HERE
W
e have social knitting every week on Tuesdays, both in the morning and evening. Join us Tuesday mornings from 11:00AM-1:00PM or Tuesday nights from 5:00PM-7:00PM. Free with Knit Club membership!

Like Us

763-391-7700




11262 86th Avenue North




Maple Grove, MN 55369